NSA refused to let Hillary use a BlackBerry when she was Secretary of State
99+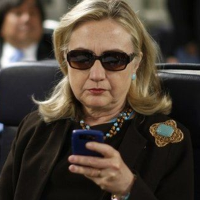 Judicial Watch requested some information under the Freedom of Information Act. The documents revealed that the NSA and Hillary Clinton's team went at each other back in 2009 over the then secretary of state's desire to own a BlackBerry handset for work. Among the documents received under the FOIA request was an email dated February 18th, 2009 which said that Secretary Clinton's "request to obtain secure Blackberry technology...was denied."
Clinton's team pointed out that the current wireless hardware used by the administration was not user friendly, had no infrastructure at the State Department, and was very expensive. At the same time, it was noted that whenever someone from Clinton's camp would inquire how Obama's well-known BlackBerry addiction was being handled at the White House, they were told to "shut up and color."
Another email revealed that Hillary did not use a PC at the time, and got hooked on using a BlackBerry during the 2008 campaign. Her desire was to use the device to stay in touch with her email during the day. Other information showed that Clinton's predecessor, former Secretary of State Condoleezza Rice, wanted BlackBerry handsets for her staff. From a security standpoint, this was deemed to be unmanageable and the request was denied.
If Clinton does make a triumphant return to the White House next January, it will be interesting to see if she once again requests a new BlackBerry, or has her tastes in smartphones changed since 2009?
source:
JudicialWatch
via
Gizmodo