NBA 2K13 Review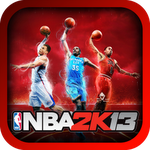 The NBA basketball season is almost upon us. Training camp started yesterday, and to kick off the start of camp NBA 2K13 was released on both iOS and Android. So, we're taking a look to let you know if this is a game to buy, or one to avoid. First thing first though, you should be warned that this is designed to be a basketball simulation. If you want arcadey action, you'll want to go for NBA JAM.
For iOS users, this franchise isn't new, as there was a release for NBA 2K12 on iPhone and iPad last year. The good news for iOS users is that unlike last year, where the game was split up and would cost you separately for iPhone and iPad, this year the game is universal, so the single purchase will get both versions. Android users, on the other hand, are seeing NBA 2K13 for the first time.
NBA 2K13 is a solid all-around game, but there were some small issues throughout that could get annoying over time. The
presentation
of the game is pretty good. The music is the star with a soundtrack "produced by Jay-Z", which sounds impressive, but really isn't much different from the good range of hip-hop that you could find in any recent NBA game. Menus are easy to navigate, and are well made for touchscreens in general. The one exception is the roster menus, where even on a larger screen it can be difficult to scroll through and select players. In-game presentation is okay, although you may not want to bother with sound, because while Kevin Harlan and Clark Kellogg are a good team, their calls can be a bit off. The in-game cut scenes can be cool, but only covers the last play, so you may end up seeing a looped replay of a free throw, and some camera angles don't show anything but an empty section of the crowd.
graphics
are really nice considering how much is happening on screen at any given time. The textures aren't the best, but you should be able to recognize your favorite players. The game could use a bit better skin-tone variation, because there were a couple times on a wide camera angle that it was a bit tough to tell the difference between Tyson Chandler and Nick Collison (a mistake that should never be possible).
The
gameplay
is where a game either shines or fails, and we have to say that the controls were a bit disappointing in NBA 2K13. There are two options for the control scheme: Classic and One-finger. One-finger is a nice option, but it definitely takes away a lot of the control you have. Essentially, movement is controlled by the game, and you are only responsible for passing, shooting, stealing, and blocking. The trouble is that swipe passing often passes to the wrong player, so it can be tough to get the ball where you want it. With both the
In the Classic mode, there is movement control and buttons for actions, but there is no real dribble control, so it's on the game to decide if a crossover or spin move will help you. This is one spot where the delay may come in handy in the controls, because you may hit the shoot button and find your player pull a shoulder fake before putting up a hook shot. Another trouble we found with the controls was that even on a larger screen the shoot and pass buttons are very faint and close together in the lower right-hand corner of the screen, so if you have large fingers, you may find yourself passing when you mean to shoot. We understand that because this is a sim, the gameplay will be a bit slower than that of NBA JAM, but we did find ourselves missing the responsiveness of the controls, and the big, colorful shoot and pass buttons that you get in JAM.
The
game modes
are pretty solid. There is no multiplayer, which is a shame, but there are modes for: Quick Game, Practice, Multi-Season, and NBA's Greatest Games. Each option is a bit thin though. Practice is just one player and an empty court. Multi-Season is nice, but the trades are simple one-for-one deals and the computer never says no, so you can build a super-team any time you want. The Greatest Games mode is sure to be the star though.
Overall, if you're an NBA fan, it's hard not to recommend NBA 2K13. There are some missing features, or the odd issue, but nothing game breaking, and ultimately it is a fun game with quite a lot of content being offered. The game will cost you $7.99 on either iOS or Android, and as we mentioned the app is universal on both platforms, so one purchase will make it available for all of your devices, phone or tablets. If you want to give it a shot, just head over to the
iTunes App Store
or
Google Play Store
to purchase.