Muzei Live Wallpaper Review: the Android wallpaper Lollapalooza
5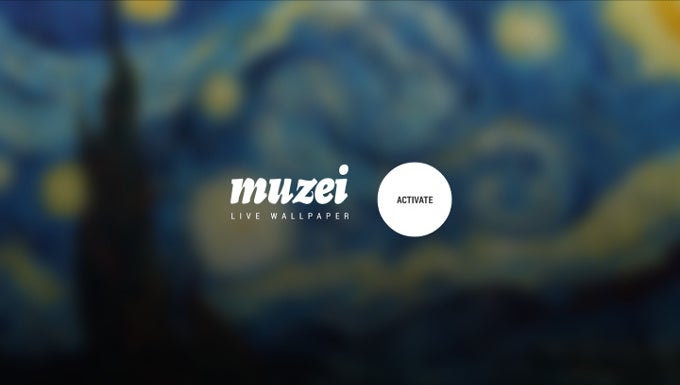 | | |
| --- | --- |
| Developer: Roman Nurik | Download: Android |
| Category: Live Wallpaper | Price: Free |
Live wallpapers are a customization feature that makes Android unique. Neither Apple's iOS, nor Microsoft's Windows Phone has such a rich wallpaper function. It's one of the great things of Google's platform - animated, fully customizable wallpapers that make a smartphone personal. Even better, most such wallpapers are offered for free or just for a dollar or so on the Google Play Store.
Yet still, the live wallpaper Android situation has been a bit of a mess. Some live wallpapers are good, but others proved to be performance and battery hogs (especially on lower power devices), so downloading a new live wallpaper app always comes with a slight sense of risk. Up until now, there was practically no single source for wallpapers that would be simple, ad-free and reliable. Times are changing, though, and we think that such an app has finally arrived.
We're speaking about the just launched Muzei Live Wallpaper (Muzei, for short), the second app from Google engineer Roman Nurik, best known for his extremely popular DashClock widget. DashClock was different from other widgets in that it came with an open public API so devs could extend the widget functionality. They could, for instance, tap into popular apps like Twitter (we should really think of these as services rather than apps, though).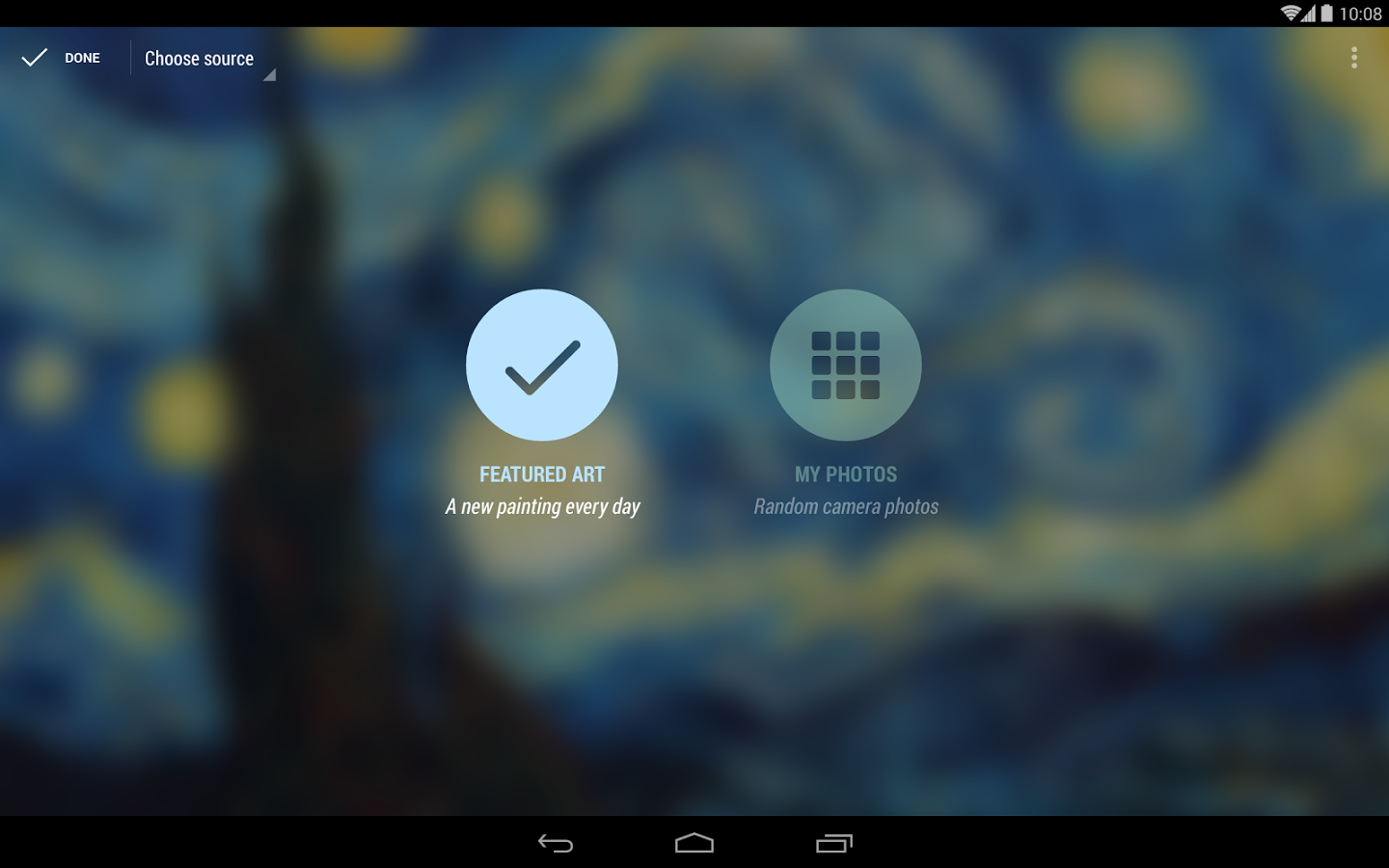 Muzei
Muzei is built on the same fundamental principle - being open and featuring a public API that would allow developers to extend the functionality and tap into some of the world's best image aggregators like Flickr and 500px.
To start off, you first have to grab Muzei on the Google Play Store where it's available for free. The app features signature, round yet flat, simple icons, and wallpapers that are blurred by default. These two elements, and the full-screen experience (using KitKat's 'Immersive Mode'), define its unique design language.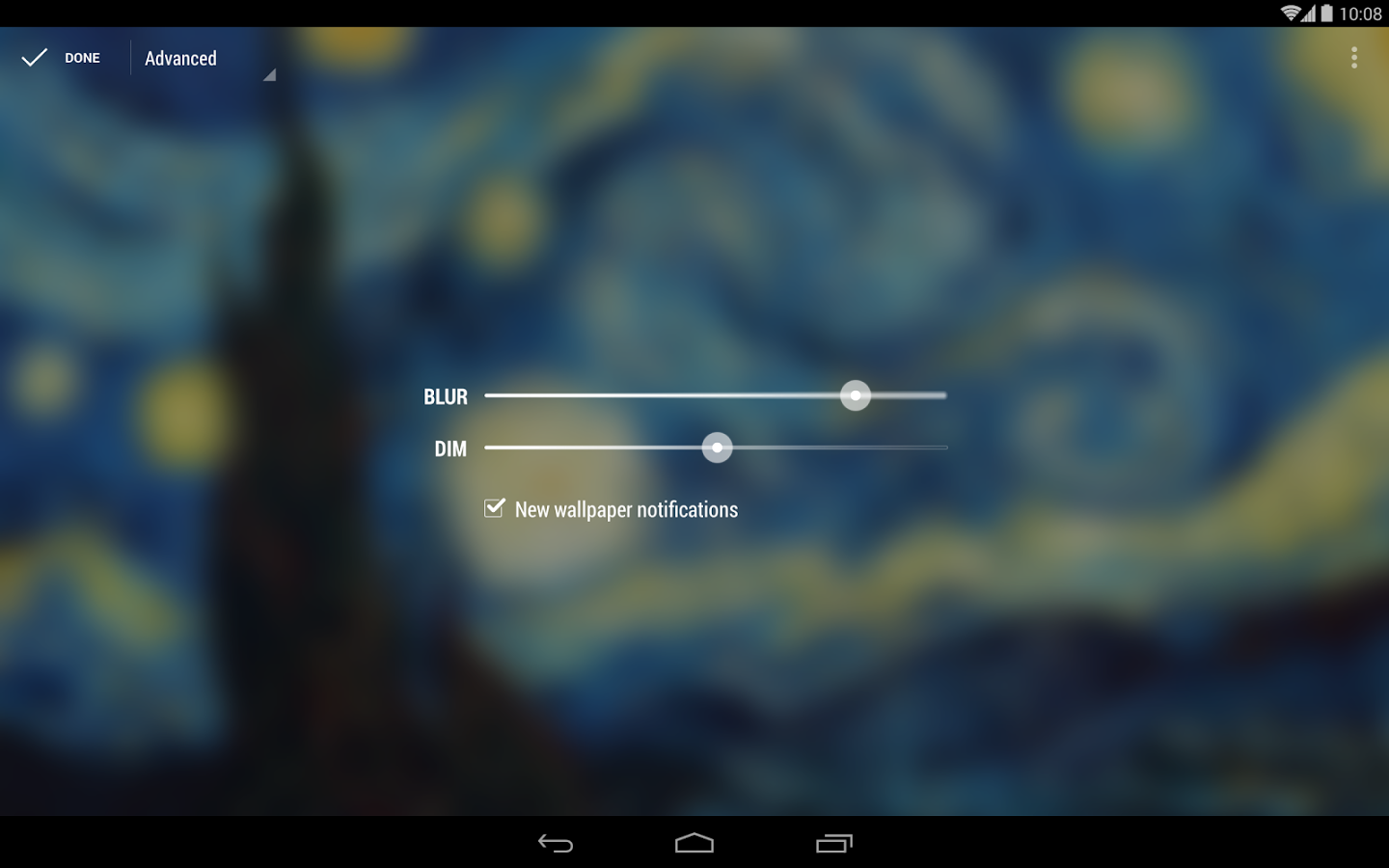 You can select the blur and dim levels
Once you start the app, you have two sets of wallpapers available. The first one pulls high-res world-renowned artwork from the web, transforming your home screen into a museum of kinds (the 'Muzei' name is a transliteration of the Russian word "Музей" that literally means 'museum'). The images appear blurred on the home screen, but you can expose them with a double tap, and double-tapping again would blur them back. This allows you to keep those images from distracting you, yet still have them subtly stay in the back as wallpapers. The second set of images pulls images saved on the device, and rotates them over a set amount of time. And that's all the image sources you have at start. Pretty, but a bit bare.
You can definitely use Muzei just like it is at start, but the app starts to shine truly once you tap into the vast selection of extensions and add-ons. Developers have come up with tens of extensions for Muzei that will allow you to have images from all over the web as wallpapers. You can do things like view images from your favorite Tumblr blogs via the Tumblr extension, have the prettiest new images from Flickr, enjoy NASA's daily space pictures, loop Google Doodles, or just bring images from all across the web to your home panel. The possibilities seem truly endless.
The app comes with a slight disclaimer, though. One thing that you might be used to seeing in live wallpaper apps is animations, and we have to make it clear that Muzei won't bring animated or moving images to your device. Instead, it only shows static images that rotate over time.
All in all, Muzei Live Wallpaper is a refreshing new take on the Android wallpaper. It's reliable, fast, and modern-looking, but most importantly it's open and it already has extensions for the world's most popular image sharing services - Instagram, Flickr, 500px, and many more. Being able to experience the amazing images from these websites as a live wallpaper that is also not too intrusive, is something we've been looking for in a while. Now, we've found that something.
Pros
Open and extendable via a public API
Modern styled dimmed visuals for the wallpapers
A ton of add-ons and extensions are already available for most popular services
Muzei is a light app, doesn't slow down devices
Free
Cons
| | |
| --- | --- |
| Developer: Roman Nurik | Download: Android |
| Category: Live Wallpaper | Price: Free |