Snapdragon 805-equipped LG G3 LTE Cat. 6 benchmarked, shows only marginal performance gains
43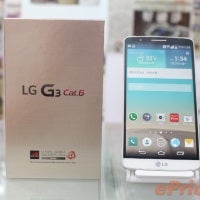 For the LG G3, it's no secret that its Snapdragon 801 SoC has enough power to make the phone perform very admirably, but not race car-like. So naturally, many are curious to see how the QHD flagship will perform on the significantly more powerful Snapdragon 805 platform. After all, its Adreno 420 GPU is rated as 40% more powerful than the Snapdragon 801's Adreno 330. And that sounds quite promising, right?
Well, it's time our curiosity got partially resolved. Hong Kong retailer ePrice got its hands on the Snapdragon 805-equipped LG G3 LTE Cat. 6 and put it through the usual benchmarks. The results are... less impressive than you might think. Although the souped-up G3 scores a nice big 24,660 in Quadrant, that's not an incredible improvement over the 23,551 that the regular version racked up in our tests. And the
Samsung Galaxy S5
is still faster on paper.
In AnTuTu, the improved hardware pushed the result to 33,991 points compared to the original LG G3's 30,634 points. But even the Snapdragon 805-equipped G3 won't surpass the Samsung Galaxy S5, which holds a steady score of 36,603 points.
There's one sure thing that these benchmarks bring to light - the Snapdragon 801 holds its own against the 805 quite remarkably. LG knew what it was doing when it launched the G3 with an older than expected SoC. Judging by the benchmarks alone, the one substantial gain from the Snapdragon 805 upgrade is, indeed, LTE Cat. 6 support - which must be a big deal in South Korea, as both Samsung and LG scrambled to get out Cat. 6 compatible versions of their flagship phones shortly after launch.
Without doubt, the addition of a cutting-edge SoC brings some level of improvement in everyday performance, battery life, and heat level. But the extent of these purported gains is yet to be investigated.