Great Deal: Motorola Moto X4 now costs just $249 on Google's Project Fi
6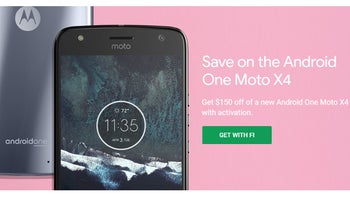 Released in the US back in September, the mid-range MotorolaMoto X4 was initially priced at $399.99, being sold both directly by Motorola,and by Google via its Project Fi MVNO (Mobile Virtual Network Operator). As ofthis week, the Moto X4 can be purchased for only $249 if you're getting it viaProject Fi before February 14.
According to Google, to get a Moto X4 for just $249, you'llneed to activate it on Project Fi "within 30 days of device shipment."The great thing about this deal - which saves you $150 - is that it doesn'trequire a minimum activation time. Once you've activated the X4 on Project Fi,you're free to use it on this network, or on another US network - the phone is unlockedand compatible with Verizon, AT&T, T-Mobile, and Sprint.
Project Fi relies on both Wi-Fi and LTE (thanks topartnerships with T-Mobile, Sprint, and US Cellular) to offer data and voiceservices. Google recently introduced a Bill Protection feature for Project Fi,enabling customers to "never pay more than $60 for unlimited data" -valid both in the US,and abroad. You can find out more about Project Fi and the latest Moto X4 dealat the source link below.
source: Project Fi