Motorola Moto X (2015) rumor round-up: design, specs, price, release date, and all we know so far
24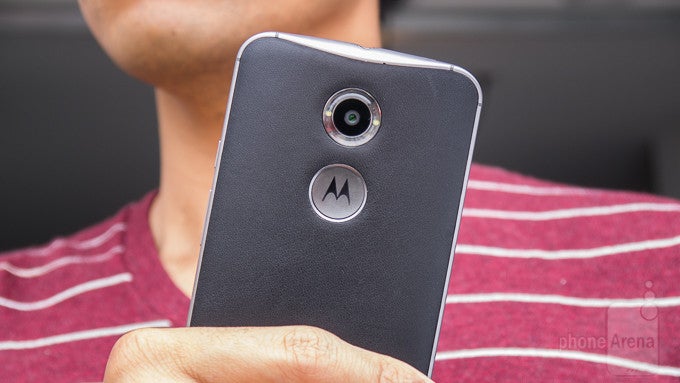 Article last updated on July 28.
UPDATE:
The new
Motorola Moto X Style
and
Motorola Moto X Play
are now official. While the former is Motorola's new flagship smartphone and succeeds last year's Moto X, the latter is positioned in the mid-range smartphone category. Learn more about them here:
It was about two years ago when the first-generation Motorola Moto X hit the shelves. Loved for its rich array of customization options, innovative interaction features, and bloatware-free user experience, the phone was met with overly positive reviews and gained a small, yet loyal foundation of followers. So was paved the way for the release of a successor. The second-generation Moto X was bigger, faster, and gave buyers even more freedom when customizing the looks of their unit. At the same time, it was cheaper than competitors' high-end offerings, carrying a $100 on-contract price tag at launch.
Neither of these two Moto X models caused much of a rumble throughout the smartphone market, however. Will the third time be a charm for Motorola? Well, it won't be long before we know the answer to this question. Although a third-generation Moto X hasn't been announced yet, one is surely coming, or at least that's what we can assume after examining all the evidence in support of a new Moto X smartphone's existence. Here's a collection of all we know about the 2015-edition Motorola Moto X so far, based on leaks and rumors.
Design and display
Customization has been a key selling point for the Moto X right from the first model's introduction, and we don't see this changing throughout the series' lifespan. In other words, we're pretty sure that Moto Maker is here to stay, albeit in select markets only. This seems safe to say as we've had multiple design variants of the Moto X already exposed – one flaunting a wood grain back plate, and another seemingly sporting a back made of patterned plastic or carbon fiber. On a related note, the list of customization options for the current Moto X model includes 17 colors, 5 leather types, and 4 wood grains for the back of the handset, as well as a selection of 10 accent colors, which are applied to elements like the phone's hardware buttons and speaker grilles. Who knows, perhaps the next Moto X will bring along even more variety to Moto Maker.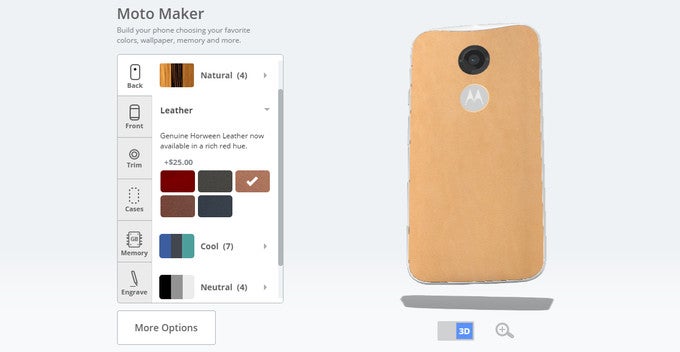 Moto Maker - Motorola's personalization service for the Moto X
UPDATE:
It looks like Motorola is poised to freshen things up a bit in terms of color options, as a fresh new leak is hinting at a new gold and white color combination for the device. Below is a picture of the rumored design.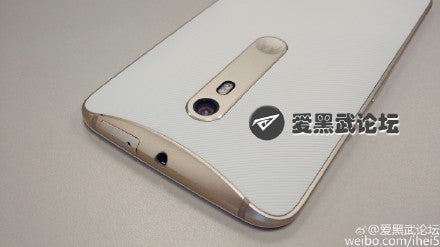 A leaked Moto X (2015) in white and gold
Build materials aside, rumor has it that the new Moto X will come in two different sizes. The smaller of the two models will feature a 5.2-inch display, just like the current Moto X, while the larger will belong to the phablet category, sporting a 5.7-inch screen. It is said that the latter is internally known as the Moto X Plus, but the phone's official name could end up being different. Interestingly, there's a chance of the 5.7-inch Motorola Moto X being a Verizon exclusive, but rumors denying this are also floating around. Looks like this one could go either way.
It is also worth mentioning that the 2015-edition Motorola Moto X will most likely retain the front-facing speaker design of its predecessor, as seen in a leaked image of the new device. Whether the new model will output stereo sound isn't yet clear, but the feature is definitely on our wishlist.
Something you should be excited about is the USB type C connector, which will allegedly make an appearance in the new Moto X smartphone. Its most practical advantage over the current USB connector is that it is reversible, meaning that it doesn't matter which way you plug it in.
One curious detail about the 5.7-inch Moto X model is that the metal frame surrounding it will have a function. This, according to rumors, has something to do with a virtual reality headset akin to Google's Cardboard. Further details are a mystery at this time.
And before we move onward, we have to clarify that the Moto X (2015) isn't expected to have a fingerprint scanner. Rumors suggesting one could be present arose after a prototype of the phone leaked, exposing a mysterious cut-out below the main camera. Newer leaked images of the 2015-edition Moto X, however, lack the said opening.
As we mentioned above, the new Motorola Moto X is likely to mark a first for the series by being released in two different size variants – a 5.2-inch model is being readied alongside a 5.7-inch Moto X phablet, according to rumors. The type of screen they will use isn't being specified, but if our intuition is to be trusted, both Moto X variations should come with AMOLED screens, just like the 2013 and the 2014 models. As for their resolution, rumors are pointing at a count of 1440 by 2560 pixels (QHD) for both displays – a serious upgrade over last year model's 1080 by 1920-pixel screen.
UPDATE:
The latest rumors are pointing at a 5.5-inch display for the new Motorola Moto X. Its resolution is allegedly 1080 by 1920 pixels, which is exactly what we had on last year's model.
UPDATE:
The image below was leaked not long ago and allegedly exposes the Moto X Sport, which is believed to be a rugged, water-resistant version of the Moto X. The Moto X Sport is rumored to have a 5.2-inch display, a 16MP main and a 5MP rear cameras, and an unknown quad-core processor at 1.5GHz, although the latter specification smells a bit fishy to us.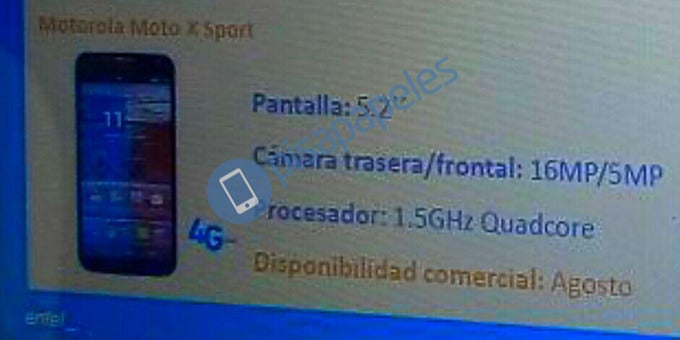 Leak hints at a possible Moto X Sport edition, which is believed to be a rugged Moto X
Software and interface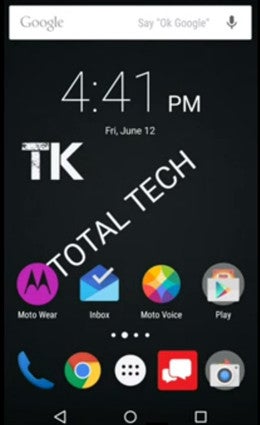 An alleged screenshot of the Moto X home screen. Via TK Total Tech
While it would have been nice for the Motorola Moto X (2015) to launch with Android M out of the box, that's extremely unlikely to happen. Instead, we're expecting to see Android 5.1 running on the handset at launch, and an update to M should be released promptly once the new Android flavor is ready for prime time.
Just like the previous two models, the third-generation Moto X is expected to retain the stock look and feel of the Android system. Using the new Moto X should feel a lot like handling a Nexus device, with no bloatware, gimmicky features, and superfluous visual effects getting in the user's way. Still, some tweaks will be present here and there. Among them are likely to be the always-on voice commands and the Moto Display notifications system augmenting the near-vanilla Android experience, much like the case was with the previous Moto X generation. In addition, the Moto X (2015) is predicted to ship with a handful of Motorola apps, including one called Moto Wear. Its purpose, according to rumors, is managing Motorola wearables, such as the Moto 360 and its expected successor.
Processor and memory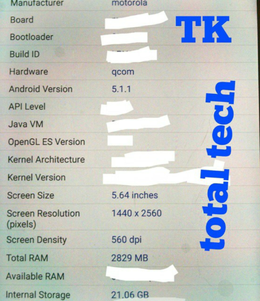 Could these be the specs for the 2015-edition Moto X? Via TK Total Tech
Processing punch under the new Moto X's hood should be plentiful, looking at what the rumors are pointing at. The latest speculations are revolving around a Snapdragon 810 being chosen to power both models of the phone, not the 808, as suggested previously. Now, this might raise a red flag for anyone familiar with the former SoC's overheating issues. The chip was found to run at excessive temperatures and throttle its speed very aggressively in phones like the HTC One M9 and the Sony Xperia Z4. However, a 2.1 revision of the Snapdragon 810 SoC is said to solve these issues, and this is what could end up ticking inside the new Moto X.
As far as RAM goes, it is speculated that the 2015-edition of the Moto X could get up to 4 gigabytes of the stuff. Leaked images of the phone's specs shown in CPU-Z, however, suggest that "only" 3GB of RAM will be present on board. Storage-wise, we're likely looking at 32GB for the base Moto X, with an optional bump to 64GB for those who need it. Whether a 128GB option will be available isn't clear. The chances to see a microSD card slot on the new Moto X seem rather low since the two models before it lacked one.
Camera
Neither the first- nor the second-gen Moto X could truly impress us with their cameras. Sure, they did perform well in most cases, but lagged behind when stacked against the heavyweight competition. For the 2015 model, however, Motorola could be preparing a truly potent camera. A tweet by Motorola CMO Adrienne Hayes suggested that the camera on the next Moto is going to "bring it", which is enough to get us all giddy with excitement. While no further hints were given, rumor has it that a 16MP "Clear Pixel" camera is going to appear on the new Moto X's back, although we'd advise you taking these with a pinch of salt. What we're far more certain about is that the camera's flash will feature two LEDs of the dual-tone variety, replacing the (rather pointless) ring flash design found on last year's Moto X. Aside from the hardware aspect of the Moto X's camera, Motorola is going to upgrade its camera app as well. What changes are to be made isn't known, but it is very likely for manual controls to make an appearance.

The cameras on upcoming Motorola phones are going to 'bring it', or so we're told
UPDATE:
A set of leaked images has revealed that the Moto X (2015) might have a front-facing LED flash, presumably to lighten up selfies. The images can be seen in the slideshow below.
Battery and charging
Little is known as to how much juice the new Moto X's non-removable battery will be able to hold. All we have is a wild (and possibly inaccurate) rumor pointing at a figure of 3280mAh without specifying which variant of the phone it is referring to. But it seems safe to assume that the 5.7-inch Moto X will sport a larger battery compared to its 5.2-inch counterpart. We're also willing to bet that both handsets will have QuickCharge 2.0 capabilities, and we're crossing our fingers to find a Turbo Charger thrown in their box. Wireless charging isn't out of the question, but we wouldn't get too excited about it making its way into the 2015-edition Moto X.
Moto X (2015) price and release date
Here's the point where we enter the realm of guesstimates. Ready? Okay, here we go! Since the first Moto X was announced on August 1 and the second-gen models was revealed on September 4, we'd expect for the 2015-edition Motorola Moto X to be made official during the same August-September timeframe. After that, it is in Motorola's interest to release the Moto X on the market as soon as possible if it wants it to stand a real chance against the Galaxy Note 5, the iPhone 6s, and the iPhone 6s Plus, all of which should be announced in September.
As far as pricing goes, the new Moto X is likely to be priced steeply, just like any other high-end phone. On the other hand, last year's model
did
launch at just $100 on a 2-year contract, which leaves the possibility for the 2015-edition Moto X to carry the same base price tag. Naturally, we're expecting for the 5.2-inch model to be more affordable, with the 5.7-inch one costing up to $100 extra. At this time, Verizon is one of the U.S. carriers supposedly committed to offering the Moto X (2015).
UPDATE:
Motorola is going to host an event on July 28. That is when the new Moto X is most likely to be announced, along with a new Moto G model. The new phones are expected to be commercially available in August of this year.