Motorola Moto DVX images surface as it clears FCC certification
5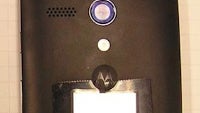 The Motorola Moto DVX is expected to become an affordable model similar to the Moto X in terms of looks, and now we finally get to see near-official images as the Moto DVX clears FCC certification.
The Moto DVX looks almost identical to the Motorola X with cosmetic differences such as the left-handed location of the speaker. Otherwise, it is an almost exact copy of the design of the X with a camera lens on centered in the top part of its back cover, and the concave Motorola logo. There is a front facing camera as well.
There's no basis for comparison so it's hard to say just how big the screen of the Moto DVX really is. It might be a bit smaller than the 4.7" one on the Moto X, but even now it's apparent that the DVX will keep the compact dimensions that make it easily pocketable and most importantly easy to use single-handedly.
The FCC filing reveals that currently the phone that has been certified only support GSM 850/1900MHz bands, or in simple terms is only compatible with AT&T's 3G network and lacks 4G LTE connectivity. This would almost automatically rule out a global four-carrier U.S., launch. That's hardly a big surprise, though. We've been hearing for months now, that the Moto X will be Motorola's US-centric device, while the
DVX will instead target emerging markets
where 4G networks are not yet as massively developed. It could still appear on some US carriers, though, as we have seen it certified with Sprint bands and it could also be available on regional US carriers.
The
Moto DVX release date
remains unknown, but a leaked Republic Wireless presentation narrowed it down to October and with FCC certification it is now one step closer to its launch. The
price of the Motorola DVX
is expected to be very affordable, and we have seen it listed on UK retailers for merely around $200 off contract. In comparison, off contract prices for top shelf devices like the Moto X and the iPhone 5s stand at around $650.
source:
Reddit
,
Android Police