Motorola DROID X2 and Motorola DROID 3 in midst of soak test
4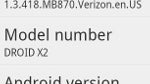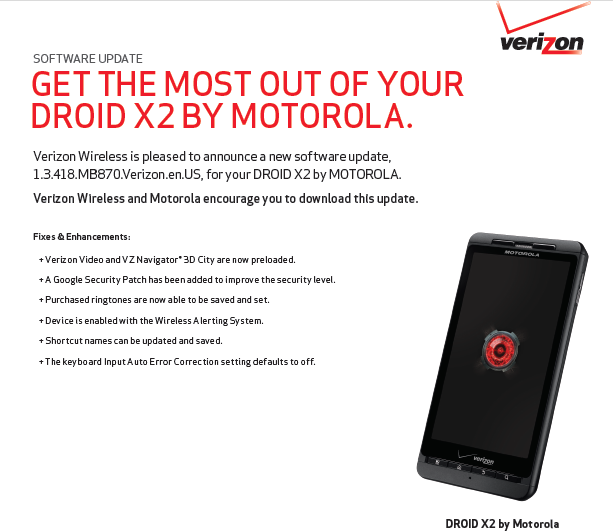 This firmware update for the Motorola DROID X2 is coming soon
Some time ago, we told you that
Motorola was looking for soak test volunteers with the Motorola DROID X2
and
the Motorola DROID 3
. Now there is word that those whose devices were selected to participate in the soak test are currently in the midst of testing out the new firmware. The idea behind the soak test is to make sure that a new software update is properly tested on the device it is intended for, but only on a small number of units. This way, if there is a bug that affects the function of the phone, or bricks it entirely, only a small number of handsets are affected which lessens the pressure on Motorola's software crew to come up with a quick fix.
Motorola had first announced in March that they were looking for soak test participants with the Motorola DROID X2 and after nearly two months of silence, some of those with the phone
are seeing firmware version 1.3.418 installed on their unit
. A Verizon customer over at
AndroidForums.com
said that he just received a replacement unit for his DROID X2 that came with the new firmware already installed. While that would seem to indicate that the soak test has ended and that the manufacturer is now distributing the new software version to all DROID X2 users, because the update is listed as "Coming Soon" on Big Red's website, we feel confident in saying that only those who signed up for the Soak Test are currently receiving the OTA update.
The update will pre-load on the DROID X2 Verizon Video and VZ Navigator 3D City, add a Google security patch to raise the security level, allow users to save and set purchased ringtones, support the Wireless Alerting System, allow users to update and save shortcut names and the keyboard input Auto Error Correction is now set on off as the default setting. There is no word on what changes Motorola DROID 3 owners can expect with the update. We
don't expect Android 4.0 to be included
in the update for either phone.
source:
Verizon
via
Phandroid