Motorola DROID 3 Review
73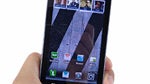 Introduction:
Deemed as the original flagship starter for Android, Motorola's original DROID series might've relinquished its throne as the premier line for the ever-expanding platform – especially when the
DROID 2
didn't have the dramatic impact compared to its predecessor. Since the original's arrival, we've seen an unprecedented amount of high-caliber Android smartphones swooping down from above the clouds to tackle and take prominence over the sea of rivals. Nevertheless, you know that the popular DROID line is known for its barebones approach in not messing around, thus, keeping the public's awareness solely on it.
It's true to say the least! Especially when consumers refer to Android powered smartphones as DROID phones – but of course, enthusiast and purists know the difference. Naturally, it's that kind of mentality that embodies Motorola's original DROID family, and now that we're witnessing the third installment in the series, it's almost unimaginable to see this one slipping through the cracks. Boasting the always expected yearly hardware upgrades, we also see a larger presence with the
Motorola DROID 3
's design – and rightfully so, it's aiming to take things to a bigger level. Even though it's competing against the likes of 4G LTE smartphones, it'll be interesting to see if this third incarnation can ignite that fire that allowed the original to explode.
The package contains:
Motorola DROID 3
microUSB cable
Wall Charger
Quick Reference Guide
Product Safety & Warranty Brochure
Design:
Without a doubt, the first thing that takes notice is the handset's significantly larger frame compared to its predecessors, which is due to the larger display it's packing along. Both longer and wider in form, the handset actually manages to shed some thickness (0.5") to make it slightly more streamline – though, it'll stick out prominently in your pockets.
Although it retains the former's fundamental design characteristics, like its familiar industrial design, it sports some heavier hard lines and sharper contours. At the same time, its tough gunmetal-like plastic casing, combined with its soft touch rear, allows the handset to considerably feel more solid. Indeed, it's heavier (6.49 oz) this time around, but it aids in maintaining its balanced figure. Not hiding the fact that it's a DROID device from afar, we're digging its developed design approach.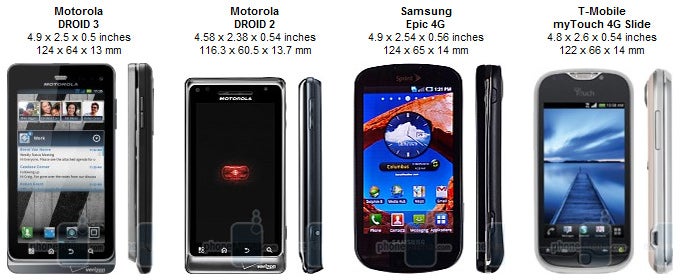 You can compare the Motorola DROID 3 with many other phones using our
Size Visualization Tool
.
Right off the bat, our eyes are impressed to see the DROID 3 flaunting a larger
4" qHD
(540 x 960)
display
, which easily dwarfs the previous offerings and places it closer to the realm of the DROID X series. No doubt employing some fantastic pixel density, its high resolution provides for some of the sharpest looking visuals to grace any of Verizon's Android stable – making even fine text more than legible. Additionally, its color production is pretty nice too with its deep and vibrant tones.
However,
viewing angles
are undoubtedly questionable since colors fade, like how black turns into a greyish hue, when the handset is tilted a bit from its perfect 90-degree position. More than viewable indoors, its display washes in outdoor settings with the sun present seeing that its overall brightness output isn't the strongest. Granted it might have its shortcomings, we're nevertheless still glad to see Motorola bringing along a much larger and higher resolution display this time around.
Continuing to show off its new form, we now find the wonderful presence of a
microHDMI-out port
with the handset – providing that all too useful mirrored experience on your high-def television set. Also, the dedicated
powered button
is now placed squarely in the middle on the top edge – just like what we see on the DROID X2. However, we're not thrilled with the amount of force needed to get a response out of its dedicated power button and volume rocker. And despite not being a 4G LTE enabled device, we're glad to see a
front-facing 0.3-megapixel camera
on board with the handset.
Previously, we saw a better improvement with the DROID 2's
keyboard
over the original, but this time around, Motorola manages to address every single issue we had with the previous two. Honestly, this is probably one of the best keyboards we've seen on a smartphone in a long time! Although it still retains that manual sliding mechanism and its flat keys, its overall spacious layout makes for one of the best typing experiences. Specifically, the 5-row keyboard now employs a dedicated row for numbers – with the convenience of the directional pad still there. Buttons are sufficiently sized for the most part, but we're blown away by its wicked responsive feel when buttons are pressed. Speed demons will no doubt love the usability of this keyboard as it boasts a ton of marked improvements over its predecessors.
Turning it around, it sports an
8-megapixel auto-focus camera
with LED flash, which has the ability to shoot full 1080p videos. Rather than using a metallic sliding
battery cover
used by its predecessors, we're greeted with a ridiculously difficult to remove snap on rear cover that hides away its 1,500 mAh battery and available microSD card slot. Likewise, it's nice to know that the handset is a global capable device from the onset with its SIM card slot in the rear compartment.
Motorola DROID 3 360-degrees View: