Motorola DROID 3 owners get email about soak test
1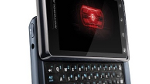 As far as Motorola DROID handsets go, the Motorola DROID 3 is the underrated player when compared to the
Motorola DROID RAZR MAXX
. After all, the phone does have some nice specs with a dual core 1GHz processor and a 4 inch qHD display. Sure, the 512MB of RAM will
apparently cost the phone a shot at Android 4.0
, but with a great physical QWERTY, the device remains a solid handset in the tradition of the OG DROID.
If you are a Motorola DROID 3 owner (and you can admit it, nothing to be ashamed about here) the Motorola Feedback Network
is looking for you
. The manufacturer wants to put the handset through a soak test and needs units from volunteers. As we've said before, this is a way for Motorola to get an update into service on a small number of handsets so that it can monitor the stability of the software easier than if they had just updated the whole series without the soak test.
If you want to take part in the test, you first have to have been
invited via the email received from the Feedback Network
. And you must be a member of the Motorola Owner's Forum. The window can close at any time so if you are serious about this, do not procrastinate. And be patient because you might not hear from Motorola for a few weeks after you have completed the enrollment survey. And of course, everything about the soak test is confidential. We know it won't be Android 4.0 coming, but the upcoming software update could have a number of bug fixes that will improve the phone.
source: Motorola via
AndroidCentral