Motorola DROID RAZR hands-on
99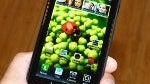 Cue the nonstop crying from the horde of Motorola DROID BIONIC owners all around the country. That's because Motorola is once again quickly one-upping their last flagship model as they happily introduced possibly the best 4G LTE enabled smartphone to smack down onto the scene thus far. Without a doubt, we were smitten by the DROID BIONIC's offerings, but today at their
press event in New York City
, Verizon Wireless and Motorola unveiled the
Motorola DROID RAZR
, which will go on sale in
November via Verizon for $299.99
– plus, it'll be launched globally as well while retaining the RAZR moniker.
Wow! Can you say that Motorola's engineers went above and beyond the call of duty by crafting the absolute best 4G LTE smartphone so far. Not surprisingly, it retains most of the same design styles that we first saw in use with the original Motorola DROID X – albeit, Motorola is quick to point out its amazingly
thin profile of 7.1mm
. Sure we're enamored by this marvel, but considering that we're greeted with that all too peculiar hump in the rear where the camera sits, we're not completely sold by its razor like profile. Nevertheless, it's one
solid feeling
handset that's very
lightweight
in the hand, and come to think of it more, it easily beats out its chunkier brethren. So yeah, we're astounded by the fact that it's constructed out of a stainless steel core, which is complemented by the Kevlar backside.
Furthering its prestige and upgraded feel over previous Motorola devices, we're presented with a brilliant looking
4.3" qHD Super AMOLED display
that pops with plenty of rich looking colors. From its distinctive luminous green colors to its near black reproduction, it's easily yet another piece of eye candy for the handset. And when it comes to clarity and vividness, it's not much of a problem thanks to its high resolution and wide viewing angles. In all honesty, this is probably the best display to grace a device from Motorola's camp!
Internally, it's powered by a blazing fast
1.2GHz dual-core processor
, which is coupled with 1GB of RAM. Running the same MOTORBLUR-like UI running on top of Android 2.3.5 Gingerbread, the handset flies with minimal fluff. It's gracious with its movement without exhibiting any strain during our quick look. Some of its other features include an 8-megapixel auto-focus camera with LED flash, 1080p high-def video recording, front-facing 1.3-megapixel camera capable of doing video conferencing at 720p, beefy 1800 mAh battery, Bluetooth, Wi-Fi, aGPS, and Motorola's new MotoCast service.
Overall, the Motorola DROID RAZR is indeed a device that'll tangle with the juggernauts in the industry – especially when it's packing that all too sweet 4G LTE connectivity with Verizon Wireless. Sure it operates smoothly with its movements, but we're curious to see how its real-word battery handles in the long run. For the $299.99 that Big Red is asking for, it's obviously warranted considering it's everything that we find with the DROID BIONIC, but better!