Motorola DROID RAZR announcement: Live Coverage!
24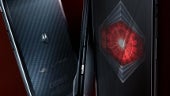 Welcome to our Live Coverage of the joint Verizon-Motorola event! We're here in NYC to report anything that's happening with up to the minute updates for you. As you can imagine, we're pretty excited to be here, since we know that the most probable candidate for an unveiling today is no other handset but the
Motorola DROID RAZR
! And as you know, anything with "RAZR" in its name should not be taken lightly.
What we know so far about this device is that it may feature a sizable 4.3" qHD display, a dual-core 1.2GHz processor and LTE connectivity, in order to achieve those blazing-fast 4G speeds on Verizon's network. But this is all still subject to change, of course, as nothing is yet official. But it will be soon!
Stay tuned for our liveblog, which will begin shortly before the start of the event, scheduled for 12PM eastern time, 11AM central time, and 9AM pacific time.