Motorola DROID 4 now on the DROIDDOES web site
3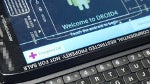 Last year, the
Motorola DROID 4
made brief appearances
on
the DROIDDOES website
. Now, the third time is the charm as the DROID 4 is on the site, showing off its specs, revealing pictures of the handset and putting down the competition with lines talking about the
decline of other models with a QWERTY keyboard
. The Motorola DROID 4 continues to improve on the physical QWERTY that comes on the phone. From the practically useless QWERTY on the OG DROID to the fantastic QWERTY on the DROID 3, Motorola has taken it one step further with each new model in the series. That continues with the Motorola DROID 4's back-lit, laser cut keys.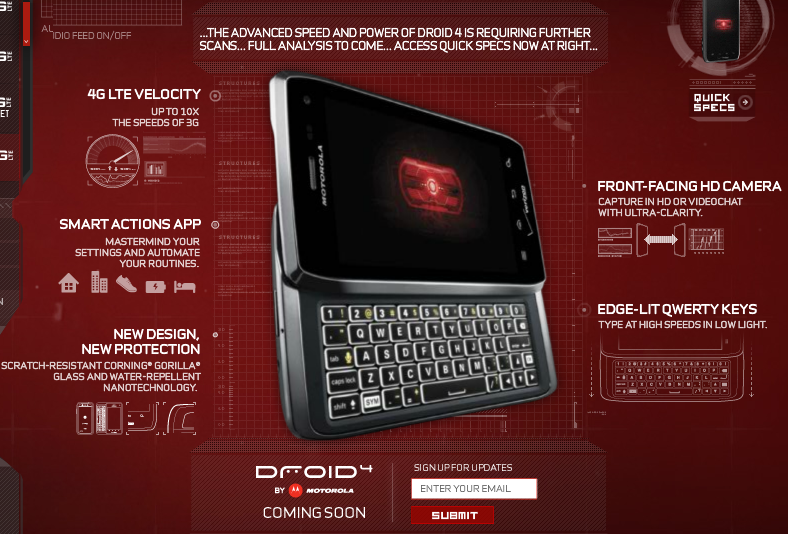 The Motorola DROID 4 on the DROIDDOES site
Earlier today, we passed along the speculation
that the Motorola DROID 4 will launch on February 9th.
That actually is a perfect date for the launch of the DROID 4. As we've said many times, the OG Motorola DROID is the handset that
started the Android Invasion
, or Androidmania as it were. And February 9th will be the 48th anniversary of the Beatles' first appearance on the Ed Sullivan show, which kicked off the British Invasion in the States.
OK, it might be a tenuous connection at best. Still, at an expected price of $199.99 with a 2-year contract for a sleek sexy device offering LTE connectivity, the Motorola DROID 4 should help keep Androidmania alive. By the way, if the Motorola DROID 4 is your next handset, or is a model that is in contention for that role, you can go to the sourcelink and sign up to receive email notifications about the phone's launch. Meanwhile, you can see how it stacks against the competition when you compare phones via our
in-depth phone specs comparison
.