Motorola DROID 4 logo appears on DroidDoes landing page
13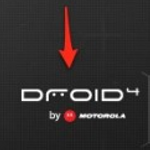 So what if the Motorola DROID 3 just launched this past July? After all, more than 5 months has elapsed since the third-gen DROID model was rolled out which means that with the way new smartphone models are produced every few months, it is time for the
Motorola DROID 4
. The latest speculation is that the DROID 4 will be launched on December 22nd. Just this past October,
a picture of the model leaked
, looking all spiffed up and ready for launch. And to confirm that the fourth-generation DROID will be here sooner than you might think, a reader for
Droid-Life
found the Motorola DROID 4 logo on the DroidDoes.com web site.
To find the Motorola DROID 4 logo on the DroidDoes.com site, direct your browser to the site and click on the Motorola DROID 3. As you can see from the photo below, the Motorola DROID 4 logo shows up near the bottom of the page. So far though, we have
not been able to replicate it
on the DroidDoes site which means that someone at Motorola probably made a premature mistake that has since been corrected.
Droid Life
also received a picture showing an image of the Motorola DROID 4 similar to what will probably be posted on the DroidDoes site in time. It confirms that the next DROID model will be a 4G LTE phone and will offer users the Smart Actions app that debuted on the Motorola DROID RAZR. Additionally, the device will be equipped with a display made from Gorilla Glass and like the DROID RAZR, will have the special
nanotechnology coating
that will make the phone resistant to light water sprays
.
The front-facing camera will be HDand theslideout QWERTYhas
edge
-lit keys to allow you to type fast even in low light conditions.
So the Motorola DROID 4 will soon be here, apparently, which means that Motorola and Verizon will soon dust off the ol' Droid Landing Twitter account and soon give everyone a chance at
winning some DROID 4 units
in a contest.
source:
DroidLife