Motorola DROID 2 scores outstanding in Android 2.2 benchmark test
This article contains unofficial information.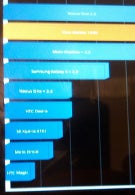 As is usually the case when the sequel to a cellphone model is released, the Motorola DROID 2 has some impressive hardware improvements to go along with a bump up in software (to Android 2.2 at launch). And when the handset was given a Quadrant benchmark test, it performed very well with a score of 1299. Motorola decided to fix the one major complaint that DROID owners had, which was a rather hard to use QWERTY keyboard. First, the Schaumburg based company removed the gold eye sore that they called a D-Pad from the first model, replaced by 4 arrow keys, and that gave them more room to make the keys bigger. The slide out landscape keyboard feels sturdier and easier to type on.
The DROID 2 brings a faster, zippier processor to the table with a 1GHz TI OMAP under the hood, 512MB RAM (which leaves you about 200MB after boot-up) and also includes a pre-installed Swype keyboard that allows you to type faster with more accuracy. As we noted, the DROID 2 will launch with Froyo and features the same "lite" version of MotoBLUR seen on the DROID X. Similar to the first-gen DROID, the sequel sports a 5MB camera with video capture, a 1300mAh battery and 8GB of internal memory.
With a launch expected later this month, the DROID 2 looks like it might be sexy enough to give Verizon customers a very difficult choice between the DROID X and the DROID 2. After all, not everyone likes to carry around a massive 4.3 inch screen in his pocket. And after the DROID 2 launch, Verizon will probably turn its attention to the Samsung Fascinate which is Big Red's Galaxy S variant. Tough decisions and good times are ahead for Android fans using Verizon.
Motorola DROID 2 A955 Preliminary Specifications
source:
IntoMobile