Motorola ATRIX 4G $129.99 at Walmart until Thursday, $149 at Amazon
14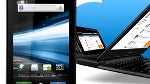 The 3rd party retailers have done their share of hand-wringing and clawed back up to full $80 from the already decent $199.99 AT&T is selling the most powerful phone to hit a US carrier for.
The dual-core
Motorola ATRIX 4G
can be had for just
$129.99
at Walmart Wireless, if they can lock you into a two-year contract
before Thursday
, and $149.99 at Amazon Wireless. Of course, you have to purchase at least a $59.99 talk plan plus a $15 minimum data plan, or, if you want to use the dock, you have to shell out $45 a month for the Data Pro 4GB and tethering plan.
The 4G capable device will set you back $499.99 if you want the laptop dock, which is the price of the dock sold separately as well, so obviously AT&T and Motorola are trying to make it really hard to purchase just the dock.
The Motorola ATRIX 4G just got its
root treatment
yesterday, so you will be armed with all prerequisites of a great Android experience - high-resolution screen, powerful dual-core chipset, low price and... a laptop dock, if you are so inclined. Stay tuned for our review of the ATRIX 4G very soon.
via
Engadget