Moto 360 with metal and gold straps officially up for sale on Motorola's site
8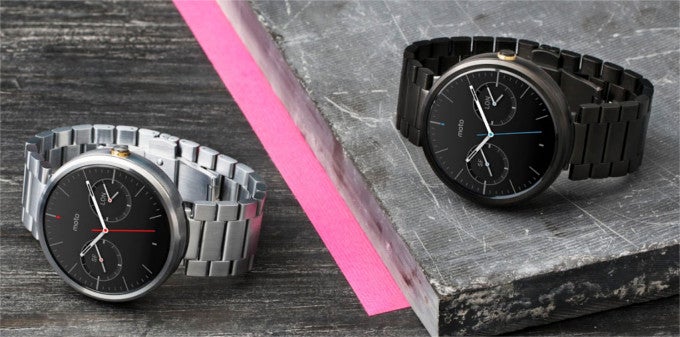 Well, after getting teased and treated to a couple of "leaks" on new
Moto 360
variants, we're finally getting to see what the new choices will be. Motorola has just put all the new options up for sale on its website, and we expect that
T-Mobile, AT&T, and Verizon
will do it tomorrow, too.

The straps portfolio is now made up of two choices of 0.86" (22 mm) thick leather bands (black and "stone"), two choices of 0.9" (23 mm) metal straps (black and silver), and two choices of svelte, 0.7" (18 mm) metal bands (champagne gold and silver. As far as the actual watch casings go, choices now include light stainles steel, black stainless steel, "light finish" (silver-ish appearance), "black finish" (a bit shinier than black stainless steel), and, of course, champagne gold. Do note that the gold is just a finish, it's not that the actual casing is made of it.

The prices vary from $249 for the two leather-strapped versions, to $299 for the metal-banded ones, and $329 for the champagne gold set.
The "cognac" band we've seen on some screenshots seems to be missing, though, Motorola did mention it in its blog announcement, so we'd wager it will be made available soon. The manufacturer has also announced that it has partnered up with other brands and there will be a lot of 3rd party straps in the near future – such as stitched leather models, and various-colored silicone bands.

Motorola has also announced some new apps and new official watch faces. Users will soon be able to utilize a My Design app, which would allow them to customize anything and everything about their current watch face. Also, hopping on the fitness tracking bandwagon, Motorola will be releasing a Moto Body app that measures heart rate, steps, distance, calories burned – you know, all the things that are now hip among wearables. The new features should start rolling out to Moto 360 units via the Motorola Connect app in the next few days.
Are you a Moto 360 owner, or, if not, are you planning to get one now, with all the new bling that has been added to it?
Moto 360 options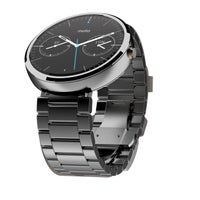 source: Motorola (
1
,
2
) via
Digital Trends