Most Nexus devices get Jelly Bean factory images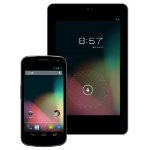 Just a few weeks ago the
source code
for Android 4.1 Jelly Bean hit the Android Open Source Project, which started the influx of custom ROMs for the Jelly Bean-capable Nexus devices. Now, just in case you've had any troubles with a custom ROM, there are official factory images to easily bring your device back to stock.
Today, Google has released the Jelly Bean factory images for the Nexus 7, the GSM Galaxy Nexus, and GSM Nexus S. Not surprising is that there's no factory images for the CDMA variants of the Nexus S (Sprint), or Galaxy Nexus (Verizon), which
cannot be supported by Google
as developer Nexus devices because of proprietary CDMA network keys. And, being a Nexus-only release, this also means no factory image for XOOM users, but given that the XOOM Jelly Bean update has just started, the factory image may be on its way.
So, if you're interested in the custom ROM scene, and you were worried about the unofficial stock ROMs out there (which are really just fine), you can now rest a bit easier that the official factory images are available.