Android 4.1 Jelly Bean hits AOSP today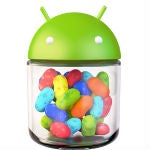 If you're part of the Android mod community, or just a dev who likes to play around with new stuff, you'd better get ready because Google is about to release the source code for Android 4.1
Jelly Bean
into the Android Open Source Project (AOSP) repository.
The news was let out by AOSP guru Jean-Baptiste Queru at just before 7PM EST today (about an hour before this posting.) JPQ said that the source code will be released today, and will be listed under the name "android-4.1.1_r1". There were some "replication delays", so we're to expect the code to hit the repo at around 9PM EST (6PM PST according to JPQ).
The binaries for the Nexus 7 and Galaxy Nexus (GSM and CDMA) are already available, while the binaries for the XOOM and Nexus S (GSM and CDMA) are coming soon.
Unfortunately, JPQ doesn't have any info on OTA releases for the Jelly Bean updates, but this would make it seem like they are on track for release this month as expected.