Morgan Stanley bullish on smartphones, sees Android doubling its marketshare by year end
1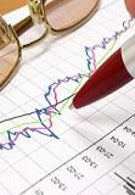 Wall Street powerhouse Morgan Stanley is bullish on smartphones. With the momentum behind Android and the iPhone 4 plus next month's launch of the Windows Phone 7 operating system, the brokerage firm has raised its estimate of smartphone growth by a stunning 11%. While Morgan Stanley was originally expecting year over year sales to increase 42% in 2010, their analysts now predict a 53% gain in smartphone purchases in 2010.
Of the smartphone operating systems available, Android has the most momentum amongst them. According to Morgan Stanley analyst Ehud Gelblum, Android will have 24% of the entire pie, more than double the 10% that Google's open source OS earned by the end of last year. With the difficulty in analyzing a new operating system and the required hardware, Gelblum has gone out on a limb with his call that Windows Phone 7 will control 7% of the market by year's end.
The analyst expects a minor decline in the iPhone's share to 15.3% at the end of the year versus 16% at the end of 2009. The biggest decline, according to Morgan Stanley, will come from Nokia. The Finnish firm's share of the smartphone market is expected to drop to 32.8% from 38% a year ago. Also in the loser's column is Research in
Motion
. The Canadian based manufacturer of BlackBerry devices should see its share fall to 15.7% at year's end, against a reading of 18.5% as 2009 ended.
source:
TheStreet