More than a third of Kids under one are now rockin' a smartphone or tablet says survey
11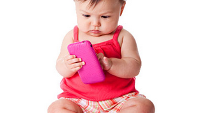 Don't be surprised if the first place parents take their newborn is a smartphone store. According to a story published in
Time
, more than 33% of children under 1 year of age have used a smartphone or tablet. Who knows, perhaps the first words out of kids' mouths these days will be "
Flagship
" and "
RAM
" instead of Mom and Dad. To come up with the stats, 370 parents of children aged 6 months to 4 years old were surveyed. 97% of the homes have a television, 83% have a tablet and 77% own a smartphone.
The survey revealed that 36% of children less than a year old have touched or scrolled a screen. 24% have made a phone call using a mobile device, 15% have used apps and 52% have watched a television show from a smartphone or tablet. The future for mobile device manufacturers is obviously bright because more kids are going to be demanding a smartphone or tablet of their own as they grow older. By the time they turn one, 33% of the kids have scrolled a screen on a mobile device, 35% have called someone and 25% have used an app on a smartphone or tablet.
Perhaps the most interesting part of the survey reveals when parents turn to mobile device for their kids. 60% of moms and dads surveyed have their kids entertained by a smartphone or tablet while they run errands. 73% of parents give these mobile devices to their kids while doing chores around the house and 65% use these devices to calm their young ones. 29% of the kids go to sleep with the help of a smartphone or tablet. Interestingly, only 30% of the parents surveyed said that they have discussed their kids' use of mobile devices with a pediatrician.
While not all parents support the idea of giving a tablet or smartphone to a child less than a year-old, the truth is that kids who don't get a chance to use a mobile device while very young could fall behind other kids who do get access to these devices within the first year of their life.

36 of those under 12 months old have scrolled a screen according to a new survey
source:
AAP
via
Time
,
Textually.org
Recommended Stories