More pictures of the BlackBerry Classic are here for your perusal
26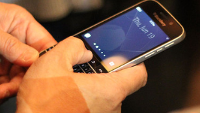 Last week, we showed you
a pair of pictures of the upcoming BlackBerry Classic
. This handset includes a physical QWERTY keyboard, one of the features that BlackBerry is noted for. It also includes an old-school trackpad and function keys that had been removed on the new BlackBerry models. The function keys offer four user options: Send, End, Menu and Back.
This model was designed for those who love the design and capabilities of BlackBerry OS 7 models like the
BlackBerry Bold 9900
, but would prefer the newer BlackBerry OS 10 to be driving their phone. Consider that in last year's third quarter,
3.2 million of the 4.3 million phones sold by BlackBerry were OS 7 models
.
The BlackBerry Classic is expected to launch in November, and the official specs have not been released. We could see a 3.5 inch screen on the handset, along with 2GB of RAM inside and a 2515mAh battery powering up the model. The back panel is made of rubber, and the casing is made of aluminum. Check out the latest pictures of the phone, which you will find in the slide show below.
source:
N4BB
via
Ubergizmo