BlackBerry Classic poses for a pair of photos
20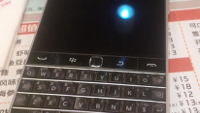 While the unannounced
BlackBerry Passport
has received a great deal of hype, BlackBerry has another high-end handset, the
BlackBerry Classic
, expected to be released before the end of the year. The BlackBerry Passport is expected to be supported by the enterprise, and by smartphone buyers who usually purchase flagship handsets powered by iOS, Android and Windows Phone. The BlackBerry Classic, on the other hand, is aimed at long time BlackBerry users who wouldn't consider any other platform.
The BlackBerry Classic brings back some old school features such as the trackpad, and function keys for Send, End, Menu and Back. In addition, the handset will offer the traditional physical BlackBerry QWERTY. It is nothing like the unique Passport keyboard, which doubles as a trackpad and includes virtual keys that appear based on context. The BlackBerry Classic will supposedly offer the best battery life available on any BlackBerry model, including the Passport.
The BlackBerry Classic will feature a 3.5 inch glass, and will be powered by a 1.5GHz Snapdragon S4 processor. 2GB of RAM is expected to be inside, with BlackBerry 10.3 pre-installed. This is a form factor that has performed well for the manufacturer, dating back to the
BlackBerry Bold 9000
. Expected to be launched in November, the BlackBerry Classic, along with the Passport, offer fans of the platform a potent one-two punch.
Check out the new pictures of the BlackBerry Classic in the slide show below.
source:
Weibo
via
Crackberry