More analysts expect to see the iPhone 6 display "approach 5-inches"
16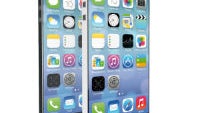 The rumors about a larger iPhone just keep on coming. Last month, we heard that Apple was testing devices at various screen sizes from the smartphone range of 4.8-inches all the way to the phablet size of
6-inches
. We have also heard two different analysts saying that the
displays
for next year's iPhone are set to change, and once again that
4.8-inch
size was mentioned. Now, we've got one more analyst jumping on the wagon for a larger iPhone 6.
This time around it is Cantor Fitzgerald's Brian White who is now convinced that Apple will be boosting the size of the iPhone 6 display. White became convinced after meeting with an unnamed Asian component supplier. White isn't going with the crowd to predict a 4.8-inch display exactly, but does say that it will "approach 5-inches", saying:
Our meeting with a tech supply chain vendor highlighted a bigger iPhone is in the works, and our contact expects a launch in the 2Q:14/3Q:14 time frame. Nearly a year ago, our research in Asia uncovered early stage work on a larger iPhone, and we indicated in our Apple initiation report dated 9/4/13 that 'a larger screen size on the iPhone is possible in 2014 that could approach 5 inches.' Given today's meeting, we are confident that a larger iPhone (approximately five inches) will become a reality in 2014.
Of course, analysts last year were predicting a low-cost iPhone, which never came to be, so we might want to wait until next year before putting too much faith in iPhone 6 rumors.