Analysts think the iPhone 6 could be priced higher
58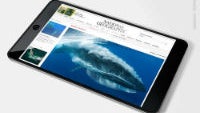 The rumor mill has been buzzing about the potential of a new larger iPhone on the way next year. The reports have varied, but it seems clear that Apple is at least testing various device sizes ranging from about 4.5-inches up to around 6-inches. The current thinking is that Apple may release two new iPhones next year - the iPhone 6 and the so-called iPhablet.
Susquehanna analyst Chris Caso thinks that Apple may raise the price of the iPhone 6 in an effort to keep the same profit margins while adding even more premium materials to the device. Caso expects that the iPhone 6 will cost more to build because of a faster processor (though we would note that has never raised the price before) and a larger display (that would depend on the resolution of said display). There are also theories that Apple may use sapphire glass for the entire display of the iPhone 6 and not just for the home button. Caso thinks all of this could lead to an iPhone that is prices anywhere from $249 to $299, which would be a $50 to $100 premium over traditional iPhone pricing.
When it comes to phablets in the Android world, there tends to be a premium placed on the price compared to a smartphone. For example, the Samsung Galaxy Note 3 launched at $299 on-contract, while the Galaxy S4 was $199. Similarly, it looks like the HTC One max will be between $249 and $299, compared to the $199 HTC One. So, we would expect Apple to do the same if it launches a phablet along with the iPhone 6, but given how Android has been eating away at iPhone sales, we're not so sure Apple would be so bold as to think raising the price is the best option. Although, Apple has traditionally been more concerned with profit margins than market share, so it's not out of the realm of possibility.