Apple may "revamp" all iOS displays in 2014
68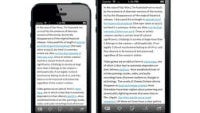 This isn't too much of a surprise, given that Apple has taken to changing its display technology every two years for its mobile devices, but a new report from
DisplaySearch
analyst David Hsieh says that the indications from the Asian supply chain show that all of Apple's next-gen iOS devices may see a display boost.
The current set of iPhones have been using the same basic display since the iPhone 4 (released in June 2010) with the only difference coming in the display getting slightly bigger with the iPhone 5 (released in September 2012.) Similarly, the iPad 3 and 4 both used the same display, and it is expected that the iPad 5 will also use that same display. The iPad mini is expected to get a new display this year, but we've already talked about
what that means
for the tablet (hint: delays). So, next year is when we would expect to not only see new displays in all of the products (except maybe the iPad mini), we would also expect a brand new design for the iPhone.
There has been a number of different rumors over the recent months that have indicated that Apple is seriously looking into creating something of an iPhablet. The earlier rumors had said Apple was
testing displays
all the way from the decidedly smartphone size of 4.7-inches, all the way up to the true phablet size of 6-inches. Hsieh says that it may soon become a "necessity" for Apple to release a phablet, but doesn't mention any concrete evidence that the company is working towards that goal.