Apple testing iPhone 6 with larger, 4.9-inch display, 5c successor also to come with bigger screen
85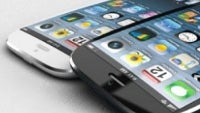 Apple has allegedly started testing a prototype for its new iPhone 6 with a larger, 4.9" screen. Apple is said to be preparing two new iPhones next year and both should come with larger displays, according to Chinese CTech. The information is, of course, unofficial, but we've heard it from multiple sources by now that Apple is indeed considering a larger screen for its iPhones.
This current news stresses that the 4.9-inch prototype device that Apple is allegedly testing would be the successor of the iPhone 5s, but makes it clear there is no information about the possible screen size of the iPhone 5c successor that should also be in the works. It however seems logical to assume that it would also feature a 4.9" screen, judging by the fact that right now the iPhone 5c and 5s have equal screen sizes.
Now, even if it's indeed true that Apple is testing 4.9" iPhone prototypes this is merely a hint of what might come, and does not necessarily mean Apple would indeed choose 4.9" as the final size. Other sources have earlier suggested a very strange possibility that the new iPhone would come with a curved convex (bulging outward) display.
Keep in mind that it's still early days of prototype testing for the next iPhone that is expected to come in some 10 months. Still, what do you think about a larger screen on Apple's bread and butter device?
source:
CTech
via
Unwired View
Recommended Stories