The best battery case for the Galaxy S9 will be released in April, says Mophie
2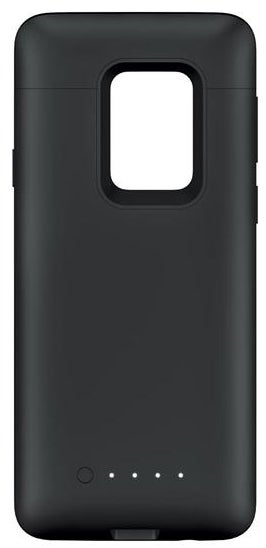 Galaxy S9+ Juice Pack
The
Galaxy S9
and
S9+
have a bit
better battery life than the S8 and S8+
, but not to the extent you would be comfortable taking them, say, for a weekend away from a charger, or even a day full of very heavy usage. That's the curse of modern smartphones with QHD+ display resolutions, so the news from Mophie that it will be releasing its acclaimed Juice Pack battery case for the S9 and S9+ earlier than it did last year for their predecessors, is very welcome.
The Juice Pack for Galaxy S9 or S9+ is arriving in April, or, just 2-3 weeks after everyone of the early adopters has gotten Samsung's newest flagships in their hands, and obtained a good impression of how long they last on a charge with the owner's specific usage. The case is very slim, as far as wrappers with embedded batteries go, but, unfortunately, that also means the Mophie sacrificed some battery capacity in the process, compared to last year.
It sports a 2070mAh pack that is good for extra 29/33 hours of talk time (don't ask us why it extends it more on the larger S9+), and can be charged wirelessly with any Qi charger as well. Needless to say, it is pass-through, which means that no matter what charging method you use, the phone's battery will top up first, and then the case will start getting the electrons. Thus, it's a great way to add at least 50% more battery life to your Galaxy S9 and S9+, and have them protected from bumps and drops at the same time, when coupled with some of the best
screen protectors for Samsung's spring darlings
out there.
The price? Well, $99.95, just like with last year's S8 and S8+ Juice Packs, which, however were thicker, and housed more capacity inside the case. A slightly smaller battery pack but thinner, more elegant battery case sounds like the smarter tradeoff, so kudos to Mophie for taking this plunge, and also for trying to release the Galaxy S9 and S9+ Juice Packs earlier this time around.