Monthly Android distribution numbers show Nougat in use on just .4% of Android devices
26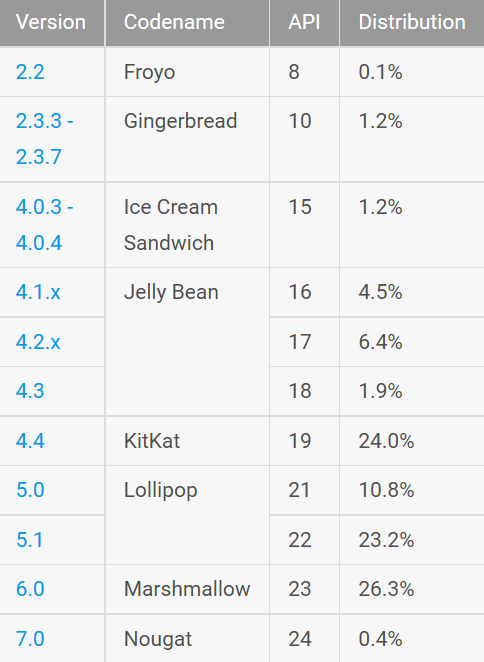 Android's Lollipop builds combine for a leading 34% share inside Android devices
Early each month as far back as we can remember, Google releases a chart with the latest distribution numbers for its different Android builds. In the latest release dated December 2016, Android Nougat (7.0) was found on just .4% of devices powered by Google's open source OS. That is up from the .3% of Android phones that carried Android 7.0 last month. Nougat, of course, is the latest build of Android.
The new numbers for December show a very small .1% decline to 34% for Lollipop. That breaks down to 10.8% for Android 5.0 and 23.2% for Android 5.1%. Combined, the Lollipop build remains the most widely used on Android devices. Second place goes to Android 6.0 Marshmallow, currently installed in 26.3% of Android devices. Phones and tablets powered by Android 4.4 KitKat (24%), Android 4.1.x, 4.2.x and 4.3 Jelly Bean (12.8%), Android 4.0.3, 4.0.4 Ice Cream Sandwich (1.2%) and Android 2.3.3-2.3.7 Gingerbread (1.2%) are next.
That leaves the previously mentioned .4% share belonging to Android 7.0 Nougat and the .1% share still owned by Froyo, Android 2.2. The latter was the first build of Android that supported the use of Adobe Flash on Android phones.
By the way, in case you were wondering, the data is based on devices visiting the Google Play Store during the seven days ended December 5th, 2016.
source:
AndroidDevelopers
via
Droid-Life