Mobile payments will soon be made at your restaurant table regardless of the mobile platform you use
10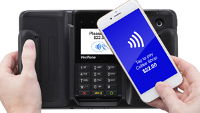 There is no question that Apple Pay has raised the profile of mobile payment systems in the U.S. Before the year is out, we should see consumers around the world whipping out their smartphone so that they can tap and pay. But suppose you've just enjoyed a dining experience at a restaurant, and the waiter comes to you with the check. Do you give him your phone so that he can use it to tap the POS terminal? Not a chance! How many strangers do you trust with your pride and joy?
While there are mobile point-of-sale terminals available, most support one specific OS limiting the usefulness of such a product. But Verifone has introduced the PAYware Mobile e355. This mobilePOS will support multiple platforms including iOS, Android and Windows. By offering such flexibility, the e355 becomes a better investment for restaurant operators, allowing the device to be viable despite the use of different mobile platforms, and OS updates.
The PAYware Mobile e355 will work with EMV, NFC, Apple Pay, and traditional magnetic stripe. A bar code scanner is an optional accessory that increases the usefulness of the product. It offers Wi-Fi, Bluetooth and USB connectivity. The device will start shipping this coming June.
"The prospect of having to purchase new mPOS devices for sales associates when smartphones and tablets are upgraded has been a major inhibitor to mPOS investment among retailers. Verifone's single, modular solution will offer the ultimate in mPOS flexibility, allowing it to persist across changes in devices, even if somebody wants to make a complete switch from one OS to another."- Mark Shockley, senior vice president of Mobile Solutions, Verifone
For restaurants wishing to accept mobile payments this is exactly the terminal you need to make sure that mobile payments from all platforms can be accepted at the table. While Apple Pay is gaining momentum, the truth is that Google Wallet has four times the mobile payment market share at this point. And the success of Apple Pay will no doubt bring wider use of other mobile payment options as well. That is why the multiple OS support of the PAYware Mobile e355 is an important improvement among current mPOS terminals.
source:
Verifone
via
Engadget