Microsoft's "McLaren" Windows Phone device to come with Kinect-like gesture controls?
38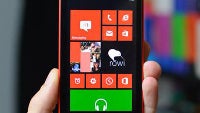 Just a few days ago, we heard rumors that Microsoft's
next Windows Phone flagship, codenamed "McLaren"
, is coming to Verizon, AT&T, and T-Mobile this fall. It is speculated that the device will be a successor to the
Nokia Lumia 1020
and will also come with a spectacular camera.
The latest rumors around this mysterious device also suggest that Redmond will be implementing a 3D Touch system in the "McLaren". 3D Touch works in a similar way to Microsoft's Kinect and allows users to interact with the device without touching its screen. The rumor mill also says that this technology will remain exclusive to Microsoft's devices and won't grace the Windows Phone-powered devices of other manufacturers.
According to the rumors, Nokia has been working on this 3D Touch technology for many years. It is said that 3D Touch will make use of numerous hardware sensors and will allow users to answer calls by holding the ringing phone to their ears, enabling the loudspeaker by placing the device on a flat service, hang up by putting it in their pockets, or even muting the microphone when they place it onto their chests. But that's just the tip of the iceberg here, folks.
Microsoft intends to get rid of hardware buttons
See, it is said that Microsoft is trying to ditch hardware buttons altogether. According to the rumors, a 3D Touch-enabled smartphone will only power on itself if its sensors detect that you are holding it. Additionally, the sides of the phone will also allow the user to interact with the device – for example, you will be able to zoom by swiping and dragging your fingers on the sides of the phone while you are taking pictures. The device will also sense exactly how you are holding it and it will adjust the display's orientation accordingly.
Reportedly, Microsoft's 3D Touch will also allow users to interact with Windows Phone's Live Tiles by hovering above them. This way, a number of additional Tiles that are relevant to the Live Tile that has been initially hovered upon will appear. All in all, it is said that this feature could be similar to the MixView in Microsoft's Zune desktop software.
Although we've seen certain functionalities in a number of devices before (Samsung's motion gesture controls, for example), it will be rather curious to see Microsoft's 3D Touch in action. If the rumors hold water, of course. We can only wait.
source:
The Verge
via
WMPowerUser
,
Neowin
Recommended Stories