Microsoft's "Turtle" and "Pure" images revealed
This article contains unofficial information.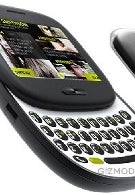 reported
that Microsoft had been working on two handsets, "Turtle" and "Pure". Somehow, the guys at Gizmodo were able to get their hands on images of both handsets. The two devices are the result of the Redmond company's Project Pink and are manufactured by Sharp. Considering that the company that came up with the Sidekick, Danger, was acquired by Microsoft, it is no surprise that the two phones appear to have a focus on social networking and messaging. No extra points for guessing which of the two is the "Turtle". That model has more than a passing resemblance to the Palm Pre while the "Pure" looks like any landscape QWERTY slider that we've seen in the last year. If there is any thing about these two units that make them uniquely Microsoft, it will have to be in the software which is supposed to be very close to what you would find in Zune products.
source:
Gizmodo