Microsoft's Future Vision: Live, Work, Play concept video teasing a mysterious Nokia device, but is it real?
16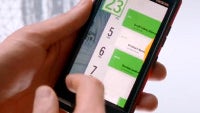 Microsoft just loves to make futuristic concept videos about what the world will look like in 5, 10, 20 or more years, but this latest one might do more than just tease a vague picture of the future. A mysterious Nokia handset makes an appearance around 36 seconds into the video, and while we doubt it's a real product, we couldn't help but notice its rectangular form, a feature that some have pointed out upcoming Nokia handset will have.
The device also has the standard Nokia button layout with the volume rocker, lock key and camera shutter all to the right.
Now of course, it's clear that the device is used to interact wirelessly with what looks like a smart touch TV, and that's clearly not something that we're likely to see all that soon. Still, it's an interesting watch, and possibly shows just a tad bit more than empty-air promises this time.
source:
Microsoft