Microsoft's 'Age of Empires' coming to Android and iOS
20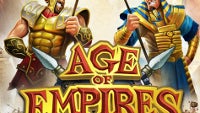 Microsoft will bring one of its most popular game franchises,
'Age of Empires,'

to both Android and Apple's iOS platforms
. The Redmond company has partnered with Japanese KLab to adapt the game for the booming mobile market.
'Age of Empires'
is a historical real-time strategy game that first launched for Windows back in 1997. The game has gotten a lot of sequels since then boosting the graphics and enriching the gameplay, but the RTS core has remained.
It might sound strange for Microsoft to debut its games on Apple's iOS or Google's Android, but the company has already published some games like Wordamen and Kincetimals on the two platforms. While its Xbox console is big, it's clear that mobile is eating into console gaming's share and this move seems reasonable.
What's more interesting is that 'Age of Empires' is said to be free to play. Does this mean it will follow the popular but annoying freemium model with in-app purchases, offer a free trial or become free altogether is an open question. There is no specific information what version of the game will Microsoft bring to mobile, but right below just for illustration we have screengrabs from destkop AoE releases.
source:
Reuters