Microsoft will now certify third party accessories for Lumia models
4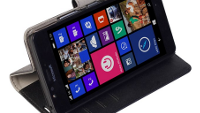 Microsoft might not be interested in manufacturing accessories for the recently unveiled
Microsoft Lumia 950
and
Microsoft Lumia 950 XL
. But the company still wants to make sure that Lumia owners are buying accessories that will work with their new Microsoft handsets. With that in mind, the software giant has launched a certification program for companies interested in producing official Lumia accessories.
With this program, Microsoft can not only make sure that purchased accessories will do what the manufacturers claim that they do, but also make sure that the quality of these products are worthy enough to be purchased by Lumia owners. In other words, it gives Microsoft control over these products even if it is not designing, producing, marketing and selling them.
Microsoft has even developed a logo that says "Designed for Microsoft Lumia," which lets accessory buyers know that the product they are buying has been tested by Microsoft. Two case manufacturers, Mozo and Krusell (from Finland and Sweden, respectively), are the only two certified case providers thus far. Microsoft, which made cases for its previous Lumia models, will apparently be content to stick the logo on accessories that it certifies.
The Mozo and Krusell websites can both be found in the sourcelink. The former says that it will soon open up its Lumia 950 and Lumia 950 XL cases to pre-orders, while Krusell's site shows off some of its new cases, including one that also holds credit cards. The good thing about a program like this, is that it allows Lumia owners to feel confident in the accessories they buy, as long as they carry the new logo.
source:
Krusell
,
Mozo
,
WindowsCentral