Microsoft has a "major announcement" on tablets coming Monday
24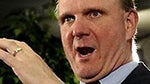 Microsoft is sending out press invites for an event in Los Angeles on this coming Monday (June 18th) for what is described as a "major announcement". According to industry sources speaking to AllThingsD, the PR event will act as a public awareness launch of ARM-based
Windows RT tablets
. You can think of this as Microsoft trying to steal Google's tablet thunder ahead of Google I/O, in much the same way that Google scheduled a
special maps event
right before Apple's WWDC.
Microsoft
hasn't exactly played coy
about Windows RT to date, but it also hasn't shown off much functional hardware so far. That's in contrast to the x86-powered Windows 8, which has seen several
preview versions
opened up to the public. Recently Windows RT has actually been generating negative buzz, as Microsoft is rumored to be
charging OEMs
the same amount for a Windows RT license as they will charge for Windows 8. Of course that's how Microsoft makes their money so you can't blame them for not wanting to devalue Windows RT, but the end result will be ARM tablets that probably can't compete on price with the already entrenched iPad.
With Windows 8/RT/WP8 Microsoft is making a huge bet on mobile, and they are depending heavily on the success of Windows tablets to generate demand for their Windows Phone platform, which has failed to garner significant consumer interest so far. With Google
almost certainly
introducing a new low-cost tablet at the end of the month (which is expected to launch with a tablet-centric update to of Android to version 4.1) Microsoft is probably concerned about losing even more ground in the tablet market before they can bring Windows RT to market.
Well be ready and waiting to bring the latest to you on Monday afternoon, so stay tuned!
source:
AllThingsD
via
Engadget