Microsoft gets supply right: Surface 2 pre-orders begin selling out
14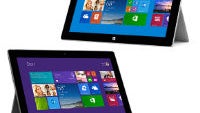 We have no idea how many Surface 2 and Surface Pro 2 tablets Microsoft had produced for pre-orders, so it's hard to say how impressed we should be with this news, but it is good to see that Microsoft got its supply numbers right this time around. One of the biggest stories regarding Microsoft from this past year was how the company supremely overestimated the demand for the original Surface RT tablet. The company ended up with
$900 million
in unsold devices, and that is considered a reason why
Steve Ballmer
has announced his retirement.
This time around, Microsoft and Ballmer have gotten it right, it seems. Microsoft has announced that Surface 2 pre-orders have begun selling out. According to Surface General Manager Brian Hall, the pre-order stock of the 64GB model of the Surface 2 and the 256GB and 512GB models of the Surface Pro 2 are "close to selling out" after being up for pre-order for just about one week.
The blog post goes on to say that there will be "limited availability" of Surface 2 and Pro 2 tablets, so Microsoft is recommending pre-orders. Of course, Microsoft is likely keeping availability limited to ensure it doesn't end up with more unsold stock on hand. The Surface 2 and Surface Pro 2 tablets will be hitting stores on October 22nd.