Questionable rumor: Ballmer pushed out because of $900M Surface RT debacle
42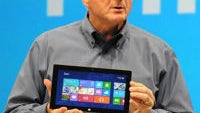 A few days ago, the vaguely shocking news came out that Steve Ballmer is planning to retire as CEO of Microsoft in one year. The news was mostly a surprise because it seems as though Microsoft had no strategy for this eventuality. That alone makes this new rumor a little less believable, but we still wouldn't be surprised if it turned out to be true that Ballmer was pushed out because of the massive Surface RT failure.
The rumor sounds reasonable enough when you first hear it, because Microsoft infamously had to write off
$900 million in unsold Surface RT
devices recently, and if anyone is going to take the fall on that, it would be the head dog of the whole company, Steve Ballmer. The trouble is that the way this is all going down makes that seem far less likely.
Microsoft knew that it had a
big restructuring plan
on the horizon when the news of the Surface RT failure was first known. If the board was going to push Ballmer out over the Surface RT, it seems like it would have been a good idea to tweak the restructuring in such a way that there would be a clear number two under Ballmer, in order to give that person a better chance to prove themselves in the time before Ballmer steps down. As is, there is no one inside Microsoft who could easily take over, and Microsoft has had to also look outside the company for a new CEO.