Microsoft gave a heads-up to hardware partners it enters their game with Surface
3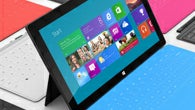 You might have heard already that Microsoft entered the tablet game itself last night with a
reference hardware of its own called Surface
. With Apple making its hardware/software combos, Google following with the Nexus line and the purchase of Motorola, and now Microsoft entering the tablet hardware business, now all three Silicon Valley giants are now well-positioned to compete in the next wave in computing with reference devices that showcase their vision best.
Asked after the announcement event whether its poor manufacturing partners knew about Surface, Microsoft's Steve Ballmer said: "
Our PC partners knew in advance we were announcing something today in this space,
" but added "
no comment
" when asked how they felt about the news. He also gave some more comments about the ideas that warranted Surface:
If you look at the bulk of the 375 million machines that get sold (next year), they probably aren't going to be Surfaces. On the other hand, we could have a sizeable business. It's an important companion to the whole Windows 8 story. It's an important piece. It's not the only piece...
[It] gives people a full range of things to think about, sort of primes the pump for more innovation around Windows 8, [and] brings new technology to the Windows PC platform.