Microsoft and Apple court victories force Motorola to pull out of German phone and tablet market
21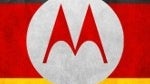 Motorola Mobility, a wholly owned subsidiary of Google, has
stopped selling Android flavored phones and tablets in Germany
. This is the result of two court decisions against Motorola Mobility and in favor of Apple and Microsoft that led to injunctions that Motorola could not get reversed.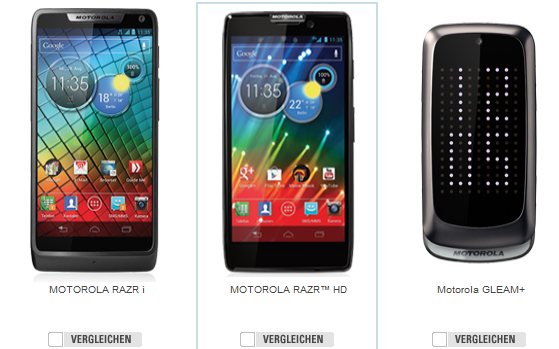 The only phones Motorola is selling in Germany
On Wednesday, Motorola Mobility's German website showed just the
Motorola Gleam
which uses a proprietary OS, and two upcoming Android phones, the
Motorola RAZR
and
Motorola RAZR HD
. Those who want to buy the Android modes can register to buy them later. The tablets page is blank with no product for sale. Motorola Mobility devices are still offered by retailers although inventory can dry up if the company decides to end wholesale shipments.
Last month, a court in Munich said that Motorola Mobility must pull every Android smartphone and tablet that it sells in Germany
after losing a patent infringement case to Apple
. The manufacturer is said to be
reworking the software
in their devices to put them back on the shelves, but there is no idea when that will happen. Motorola Mobility has lost three court cases to Microsoft in Germany and the latter wants to get paid for illegal use of of its patents. But in this crazy world of patents and courtrooms, Motorola Mobility is battling Microsoft in the Germany and U.S. courts, claiming that Microsoft infringed on its patent relating to the H.264 video playback standard. The Google subsidiary also surprised everyone by recently
dropping a patent claim against Apple in the U.S. ITC
.
Motorola Mobility has said that it is switching its corporate strategy. While Android models have been popular in the country, the manufacturer is making it seem as though it would have pulled out of Germany anyway to follow CEO Dennis Woodside's new game plan to sell more high-end models in fewer locations.
"As we have previously stated Motorola Mobility is focusing on fewer mobile devices. As a result we have phased out some of our lower tier devices in Europe/Germany."-Motorola Mobility Spokeswoman
source: TheGuardian
via
AllThingsD