Microsoft buys Skype for the staggering $8.5 billion, to use it in Windows Phone 7 and Kinect
36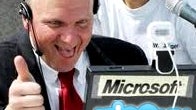 If you've never used Skype, you might say that Microsoft just paid $8.5 billion for some glorified chat software. Even if you've used Skype, you might still say the same, that's how many eyebrows Microsoft's biggest acquisition to date raised. Rumors about the deal were floating around for a few days,
reaching a crescendo level yesterday
.
Microsoft announced today that it will buy Skype from its majority owners, among which is also the Canada Pension Plan, that acquired it in 2009 when Ebay parted with a large stake in the company.
Ebay's idea was to use Skype for buyer-seller communication, but quickly figured out that people prefer the no-hassle anonymity more than direct contact when selling or even buying stuff online. It sold 65% of it for $1.9 billion, after acquiring Skype for $2.6 billion. With Microsoft's purchase for the staggering $8.5 billion, Ebay even makes a bit of money on the whole, parting with its remaining percentages.
What's more interesting, though, is what will Microsoft do with Skype to justify that it just shelled out $8.5 billion for the service, assumed its debt, considering it has chat software, both consumer and enterprise. After all, Skype lost $7 million last year, on more than $800 million of revenue. It was also plagued by patent lawsuits, but that has obviously been resolved in one way or another. So that leaves Microsoft buying Skype for said patents, for its video chat capabilities, and for its established network of 170 million users, coupled with its brand recognition.
The Redmond software giant's clarification is that it will integrate Skype with
Xbox 360 and Kinect
for video chats, with the
Windows Phone platform
, as well as merge it into its corporate communication software
Lync and Microsoft Outlook
for real-time communication.
Do these intentions warrant the hefty $8.5 billion price? It remains to be seen, but there is obviously something brewing in CEO Steve Ballmer's head, after quietly taking over Nokia from the inside and after buying Skype, and we have the feeling cloud and mobile are a big part of Microsoft's future strategy.
Microsoft says it will continue support for Skype on other platforms, like iOS and Android, but now that it owns the service, it might as well throw crumbs at the competition, and keep any current or future aspects of Skype's functionality for itself.
source:
Microsoft
Recommended Stories