Microsoft admits that other U.S. carriers besides AT&T wanted the new Lumia models
59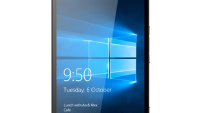 Did Microsoft shoot itself in the foot, or does it have a master plan? A statement from the software giant's camp says that the company received interest "
across the board
" from stateside carriers about offering the
Microsoft Lumia 950
and
Microsoft Lumia 950 XL
. But Microsoft said that it decided to narrow its channel strategy in the short term, and widen it in the long term.
As a result, among U.S. carriers, AT&T alone will offer the Lumia 950 in the U.S. Unlocked versions of both models will be available from the Microsoft Store. Reportedly, AT&T decided on offering only the Lumia 950, since it believes it to be the easier sell among the two models.
There is talk that Microsoft most likely never wanted to spend the money necessary to provide CDMA versions of the handsets to Verizon and Sprint. And as noted by T-Mobile CEO John Legere in a tweet, Microsoft simply gave the phone to AT&T. In other words, T-Mobile did not turn down the opportunity to add either or both of the two new high-end Lumia models to its lineup.
One theory is that Microsoft intends to push the Lumia 950 to enterprise users in the U.S., and does not plan on spending too much money to market it. Instead, the speculation is that Microsoft CEO Satya Nadella and Surface VP Panos Panay want to reset Microsoft's mobile division, ridding the unit of anything that reminds them of the previous regime, including Lumia phones. Behind the scenes, Panay is rumored to be working on a Surface phone that would include PixelSense pressure sensitive touch inputs.
Remember something else.
Microsoft makes more money every year from the Android patents it licenses
, than from selling its phones. Toss in last
July's huge write-off of good will from the Nokia acquisition
, and you can sense that Nadella and Panay are itching to clear the decks to start their own legacy when it comes to Redmond-based smartphones.
source:
PCMag