Microsoft Surface Pro 4 and Surface Book are up for pre-order
24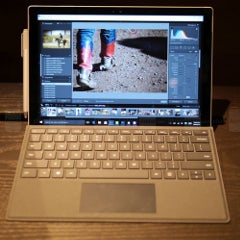 After Apple threw its hat into the professional tablet ring with the announcement of the
iPad Pro
last month, Microsoft knew in the run-up to this week's event that the
Surface Pro 4
would need to make a strong first impression. In a very important few days that has also seen Redmond finally deliver a pair of
flagship Windows smartphones
, the Pro 4 tablet hybrid looks every bit as capable as anything else out there at the moment. Packed to the rafters with power, the latest Surface Pro makes few compromises, although this also means that the price is substantial as well. If you have the pocket change ready to drop on a feature-rich tablet and have the Surface Pro 4 on your radar, then you'll be pleased to learn that it's now up for pre-order.
The usual suspects of Amazon, Best Buy and Target have all started taking pre-orders of the Surface Pro 4 just a couple of days after the announcement. With a refined keyboard, larger display, much more power and better cooling facilities, the Surface Pro 4 is right at the cutting
edge
of tablet tech. In spite of the cost, you do get plenty of bang for your buck.
The base-level model is the cheapest at $899, and packs an Intel Core M processor along with 128 GB of storage. If you're looking to take advantage of the all-new keyboard, you're looking at a further outlay of $130, so for a true tablet-ultrabook crossover experience the way Microsoft intended, you'll be parting with at least $1000. Indeed, if you want the fully-stacked model with all of the trimmings, the total cost will teeter close to the $2000 mark.
The Surface Book
-- Microsoft's very own MacBook Pro killer -- is also up for pre-order. An unexpected guest at the launch event, it's another hybrid, although it's a notebook at heart. As such, you get laptop-level hardware with Intel's much-vaunted Skylake chip, but again, you're looking at a significant outlay of $1500 for the entry-level version. And hey, if you've really got it to throw around, the top-tier Surface Book goes whole hog with a Core i7, 512 GB SSD and an NVIDIA GPU -- all for a cool $2699.
If you're interested in learning more about the Surface Pro 4, please take a look at our
hands-on coverage
.