Miami Zoo monkeying around with the Apple iPad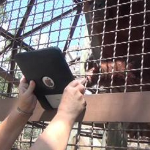 Orangutans are intelligent creatures and according to trainers, they are just limited by their inability to talk. But thanks to the Apple iPad, 6 orangutans at Miami'Zoo's Jungle Island can express their needs and wants and even alert their trainers when they are feeling under the weather. Trainer Linda Jacobs, who oversees the program, first heard about about the program from someone who used the tablet with dolphins, and she started using the Apple iPad with the orangutans last summer. Similar to humans interaction with smartphones and tablets,
the younger orangutans have picked up on how to use the iPad quickly
, according to Jacobs. She noted that the older animals are not interested in using it, feeling that they have survived without it for so long that its use was not necessary. Sound like any people you know?
The executive director of Orangutan Outreach, Richard Zimmerman, said he's building an "Apps For Apes" program with old, donated Apple iPads at facilities throughout North America, although Miami is not one of those in the program. And there are drawbacks in using a device like the iPad with orangutans. Even though the iPad screen is larger than some Android tablets,
it is too small for these animals who are often pressing on the wrong icon or link
. The touchscreen won't register when the orangutans use their fingernails, and the trainers have to hold the tablets when they are being used because otherwise they would be destroyed. Trainer Jacobs notes, "
If I gave them the
iPad
, I could just basically hand them $600 and say, `Go have fun, so until we come up with a better screen or a better case, I'm going to hold onto the
iPad
."
The Apple iPads aren't being used just so that the orangutans become a more appealing attraction to humans. Jacobs says that the tablets are being used to stimulate the animals' minds and prevent them from getting bored or depressed. The use of the tablet has been praised by Mary Galdikas, founder of Orangutan Foundation International. Noting that orangutans share 97% of their genetic material with man, and that man likes the Apple iPad, it is no surprise that the orangutans like them too. Jacobs, the trainer behind the program in Miami, says her goal is for the use of the tablet to
shrink the gap between humans and the endangered apes
.
source:
SunSentinel