Meet the most compact 5-incher: Sharp Aquos Crystal vs Nexus 5 vs S5 and others size comparison
19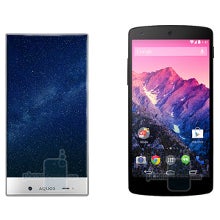 So, thanks to SoftBank's Sprint buyout, we are finally getting some of the almighty Japanese smartphones on this side of the pond, and with a fresh new handset at that, not some existing rehash. Sprint just announced the availability of the bezel-less
Sharp AQUOS Crystal
, which will sell for $0 if you get it with contract, $150 if you get it on prepaid with Boost or Virgin, and a $240 MSRP if you just buy it SIM-free.
In the great traditions of
Sharp's EDGEST
design language, the Aquos Crystal has almost no side and top bezels, which allows it to fit a 5" panel in a size that is more akin to a 4.5" model. Actually, the phone is just 5 inches (131mm) in height and 2.6 inches (67mm) in width. For comparison, that's about as compact as the
Moto G
, while having a half-inch larger display diagonal. Thus, the Crystal sports one of the best screen-to-body ratios in the industry, with about 78.21% of the front being a pure display surface - better than, say, the
LG G2
, but still lower than Sharp's EDGEST champion - the
AQUOS SH-04F
, with its eyepopping 81%, the highest in the industry.
Sharp's phones aside, nobody comes even close to the AQUOS Crystal's ergonomics, certainly nothing that is being sold in the US market, as you can see from our size comparison below. Again, for the SIM-free price of the
Moto G LTE
, you are getting a better phone with similar dimensions, yet a half-inch larger, 5" display diagonal - what's not to love here. Keep'em coming, SoftBank, Sprint users will certainly appreciate it.