Meet the future of mobile display tech: Sharp's first phone and 7" tablet with Full HD IGZO screens
23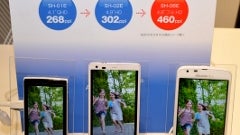 Now that the first phone and tablet with high-res IGZO panels are a fact, and presented as a part of the
NTT DoCoMo summer portfolio
, we know why.
First in line is the
Sharp Aquos Phone Zeta
, codenamed SH-06E. It has all the prerequisites for a 2013 flagship - a 4.8" Full HD display panel (that's 460ppi for you), 1.7 GHz quad-core Snapdragon 600, 2 GB of memory, 32 GB of internal storage, 13 MP camera and 2600 mAh battery, all wrapped up in a thin sub-10mm watertight package, which houses Qi wireless charging to boot.
The details is where it gets interesting, though. IGZO (indium gallium zinc oxide) screens are much more energy efficient than even the best IPS-LCDs made with the LTPS method, like the one found on the
iPhone 5
. The IGZO technology reduces the amount of power required to drive liquid crystals during the display of still images, as you can see in a slide for the Zeta below.
IGZO panels are on top of that thinner, brighter, less reflective, cheaper to produce and can be made with flexible substrates, plus they have tens of times the typical LCD refresh rate. The only problem with the technology seems to be yields, as in "not able to make enough", which was the chief reason for
Sharp being late to the iPad franchise party
last year.
Due to the IGZO usage, the newest Sharp Aquos Zeta is claimed to boast
two full days of battery life
, which is a pretty svelte achievement for a big-screen phone, and hopefully a harbinger of things to come with handsets using this screen technology. After all, display time is what saps the most out of the battery on our mobiles, with cellular connectivity a distant second. The screen also supports the "hovering" finger mode that picks and previews before you've even touched it.
Not only is the display of the Aquos Zeta groundbreaking, but the phone seemingly features a 13 MP camera with f/1.9 aperture, like on the
Lumia 720
, and
optical image stabilization
, making it only the third with OIS tech, after Nokia's Lumia 92X range, and the
HTC One
. Here, however, we have much higher resolution and wider aperture paired with image stabilization, so low-light shots are definitely to be compared once Sharp's handset hits Japan next week on May 24th.
The other notable IGZO warrior in the lineup is the
Sharp Aquos Pad
SH-08E tablet, with the same quad-core Snapdragon 600, 2 GB of RAM and 32 GB of storage, but 4200 mAh battery. It is a 7-incher, though, with the breathtaking for a small tablet 1920x1200 pixels of resolution, and voice calling feature.