Mass production of the Pebble Time watch starts next week; device ships in the second half of May
16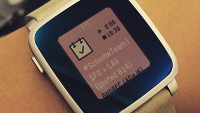 At this time last year,
Pebble controlled the smart wearable market with a 35% share
. But with a variety of intelligent timepieces hitting the market, the guys at Pebble were smart enough to know when it was time to start from scratch, something similar to what Samsung did with its flagship phone this year. So back to Kickstarter went Pebble, and this time it
smashed all records by raising $20 million
for its new Pebble Time watch.
Pebble issued a release on Monday giving an update on where Pebble Time currently stands. The good news is that mass production will begin later this week. This is a week later than originally scheduled. Many who funded Pebble Time will still have their watch shipped this month. Some will receive their watch in early June.
The e-ink display offers quite a colorful screen and Pebble says that it is still working on icons. New colorful designs for system apps like Alarms, Calendar, Music, Notifications, Sports, and Settings will take advantage of the new screen. Out of the box, Pebble Time will include a new timeline interface so you can check out events that happened in the Past, events happening in the Present and those taking place in the Future. That can include weather info, sports scores and your calendar.
Some new features coming with Pebble Time include the ability to store as many apps and watch faces as possible. If there is no memory left, the apps will store on your iOS or Android handset. A new sports app will cover all professional and NCAA sports. You can have scores and schedules pushed to your timeline. And Android users will be able to dictate short text message replies to notifications received on the smartwatch. A similar feature will be available soon for iOS users. Among new things being worked on for Pebble Time include an app for voice notes, a stocks app, a weather watch face and album cover art for the music app.
Starting next week, backers will be able to lock in their color selection in the Reward Portal. Most importantly, shipping will take place beginning in the second half of this month.
source:
Kickstarter
via
AndroidCentral