Manage your favorite MLB players on your Android phone with 9 innings: Pro Baseball 2011
8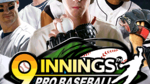 Have you always thought to yourself that you could manage the New York Yankees better than Joe Giradi? Here is your chance to prove it. Android game creators Com2uS have created 9 innings: ProBaseball 2011. Unlike all of the other baseball games available for your phone, this is the first one to be licensed by the MLBPA which means that for the first time, your favorite players will perform on your handset as they do on the diamond. 750 MLB players are available, using the latest available stats to make sure that players are capable of playing just as they do in real life.
The game has three different modes.
Season Mode
allows you to take your favorite team and manage it over 9 seasons with the goal to make the playoffs-just as in real life.
Exhibition Mode
allows you to pick two teams to play one game and
Home Run Mode
goes through your lineup player by player in a modified Home Run derby. You get a certain point total as a goal and you keep going through your lineup until that goal is reached.
9 innings: Pro Baseball 2011 is ad supported which means that it is available for free from the Android Market for phones batting with Android 2.1 or higher. If you are a big baseball fan, you are going to want to install this game right away. Play Ball!
source:
AndroidandMe