Man injures tendon, requires surgery after non-stop Candy Crush play
12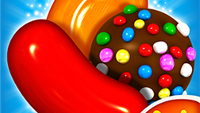 Yes Virginia, playing mobile video games too much can hurt you. Take a medical case study which was published on JAMA's online website. A 29-year old man had been playing Candy Crush Saga everyday for 6 to 8 weeks. While a righty, the unnamed patient (would you let them reveal your name for this?) suffered from chronic left thumb pain. This man played the game with his left hand, according to the medical history, while using his right hand to do other things.
We will spare you the medical jargon and tell you that the patient had ruptured one of his tendons and required surgery. The tendon that ruptured was one of the two that allow you to extend the index finger. Despite the damage and the non-stop game playing, the patient was not addicted to Candy Crush. According to the report, he was playing the game to pass the time between jobs after leaving the military.
According to JAMA, the patient didn't notice any pain while playing Candy Crush, which begs the question whether many are addicted to video games because it helps them reduce pain. It seems that mobile video games are the new opiate of the masses. According to Dr. Andrew Doan, who co-authored the case study, "
We need to be aware that certain video games can act like digital painkillers. We have to be very cognizant that that can be abused
." Better not stop playing cold turkey.
"The potential for video games to reduce pain perception raises clinical and social considerations about excessive use, abuse, and addiction. Future research should consider whether pain reduction is a reason some individuals play video games excessively, manifest addiction, or sustain injuries associated with video gaming."-JAMA
source:
JAMA
via
LiveScience
,
Gizmodo
Recommended Stories