Man buys Pre and then smashes his iPhone
12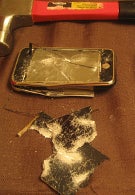 A guy named John had been using a first-gen iPhone and whether it was the frustration of using EDGE or wanting a replaceable battery, he decided to go out and buy a Palm Pre. Okay, nothing out of the ordinary so far and certainly some Pre purchasers whipped out their credit cards this weekend to replace their iPhone with Palm's new touchscreen handset. It was what happened after John took his new phone home that really was unique.
If you were to buy a Palm Pre to replace an iPhone, what would you do with the latter device? Some would immediately put it up for sale on Ebay. Others might pass it on to a sibling or give it to a friend. And there would be some who would just stick it in a drawer just in case it was needed later. But no one could have guessed what our friend John did with his iPhone. Grabbing a steel hammer out of his toolbox, he smashed his old phone beyond repair.
Maybe John was angry with Apple and the iPhone. Or perhaps it was AT&T that set him off. Either way, it proves that no matter how indestructable a touchscreen might claim to be, all it takes is a few swings with a decidely low tech weapon like a hammer to destroy it.
source:
preThinking